Once a year, the education department at the American Shakespeare Center ventures out into the social and artistic world that is NOT centered in Staunton, Virginia. We call these outings our "Education Retreat," with the double-entendre of being educational experiences for us as well as the attendees consisting of members of our education department. Previous adventures have included attending plays at other theatres, going to Busch Gardens, and spending  quality time at the home of our Director of Education. All of these outings obviously vary in their educational and artistic impact on us and on their other audiences, but they are all united by the major goal of our "retreats;" camaraderie and team-building. This was the first educational retreat that I got to go on (being a new hire as of April this year), but in previous years attendees have ranged from just salaried staff, to interns, to education artists. The goal is to include as many people as possible each year, and to impact as much of our team as we can with a fun and educational experience.
This year's trip included Sarah Enloe, Director of Education, Cass Morris, Academic Resources Manager, Lia Wallace, College Prep Programs Manager, and me, Adrienne Johnson, Company Manager and Camp Life Coordinator.  We made good time driving into Washington, DC on Wednesday afternoon, had dinner and saw Tony Kushner's Millennium Approaches, the first part of Angels in America: A Gay Fantasia on National Themes at Round House Theatre produced in partnership with Olney Theatre Center. On Thursday we tried and failed to get into the new National Museum of African American History and Culture, and instead went to the Smithsonian's National Air and Space Museum and had lunch at Rasika before we had a few meetings at the Folger Shakespeare Library. We only hit a bit of traffic coming home, and were all back at work Friday morning.
YUZU Japanese Restaurant
We weren't supposed to eat here. We actually had reservations for Jaleo, but we were late and they couldn't delay our reservation by much. We still did our best to take the Metro across town in time, but were more worried about our curtain time since we probably lost our table. We literally walked into the nearest restaurant to the Metro station and (I think) found a little goldmine. Instead of a contemporary Spanish restaurant, we ended up in a Japanese restaurant with a personal sushi chef (with quite the resume). I was totally up for trying a new style of food… but sushi is my favorite food, so I was thrilled about the unplanned change. Collectively, we got edamame and tempura vegetables, spicy karaage chicken, udon, three different sushi, and two nigiri. Everything was delicious.
Round House Theatre
For this production of Tony Kushner's Angels in America: A Gay Fantasia on National Themes, Round House Theatre teamed up with Olney Theatre Center. The two theatre companies have announced a "two-year commitment to co-produce outstanding plays in Montgomery County." Angels in America is the first of this undertaking, and the next partnership (this time at Olney) happens in Fall of 2017. When it premiered in 1991, the play won the Pulitzer Prize for Drama, the Tony Award for Best Play, and the Drama Desk Award for Outstanding Play. When we began looking at plays for our retreat, I suggested Angels in America to Sarah, mostly out of the selfish reason that I love the play and that I wanted to see some serious tech at work, knowing they'd at the very least need a fly-system. Luckily, there was a groupon. Sarah and I had read both parts before, and both Lia and I had seen the HBO version of the play, but Cass had neither read the play nor seen the made-for-tv special before our expedition on Wednesday.
I won't speak for my cohort, but I loved the production. First, it was great to see some well-timed tech. As someone who stage managed for years before coming to work at the ASC (where we do it with the lights on!), I really miss seeing and executing what my stage-management professor from undergrad perfectly titled "a sexy light cue." Timing cues is a detail-driven expertise that takes constant finessing, and something I miss most about calling shows. It is a skill that I am afraid I will lose if I don't use it, and I was grateful to relish in a cleanly-executed production. There's no better feeling than when a beautiful technical aspect in your play is timed perfectly with the talent of the actors. Well-done Round House/Olney. Secondly, the acting was superb. It's hard to pinpoint just one favorite character or scene or moment. Kushner obviously wrote a wonderfully balanced play, with great character arch and development, but putting that aside, just the acting was outstanding. I had never seen Thomas Keegan perform, since I'm new to the ASC, but Sarah, Cass, and Lia all had, but only ever in the plays of Shakespeare and his contemporaries. I imagine that a Republican, Mormon, closeted-homosexual was out of the usual wheelhouse in which they'd seen him perform. Keegan toward above his detail-oriented partner, Kimberly Gilbert's Harper. When reading the play, Harper is my favorite character, in Round House/Olney's production, I really want to say she's still my favorite. Her honest Harper was earnest in her delivery and meticulous in the use of her hands. Gilbert could teach a lesson to every Nina who asked what to do with them. But every scene she did, was topped by one of her cast-mates, and then again by her, and then again by her cast-mates (you get the picture).
It is hard to single out a single winning performance. And yet, I'm still going to try to. Sarah Marshall was noticeably Sarah Marshall in every character she doubled, with the exception of Hannah Pitt, the Mormon mother. Each actor in the production was good at making almost all of their words sound genuine, as if they were being delivered for the first time.  This is something we strive for at the ASC, because we believe that the quick delivery of Shakespeare's text is crucial to understanding the language and executing the original staging practices of his plays. It's a hard thing to do. I've tried, and maybe succeeded a few times in plays I've been in. Many actors find this "discovering" of language one of the more difficult practices of acting; how do you make words that someone else wrote, that you spent hours memorizing, sound like you've never spoken them before and definitely haven't practiced saying them hundreds of times? I have never seen an actor execute this better than Sarah Marshall did in the scene where Hannah Pitt first arrives in New York and has a discussion with a homeless woman about getting directions to her son's neighborhood.  Because of my obsession with tech in a show, it is very hard for me to "get wrapped up" in a production as I am constantly looking around the room to observe as much of the backstage elements as a I can. However, during this scene, I forgot to look around, because I couldn't look away. It was the most real, wonderful connection of two fake people I've ever seen, and my heart went out to Hannah Pitt. Overall, the show was amazing, and my only regret is that I probably won't get to see Part II before it closes at the end of the month.
National Museum of African American History and Culture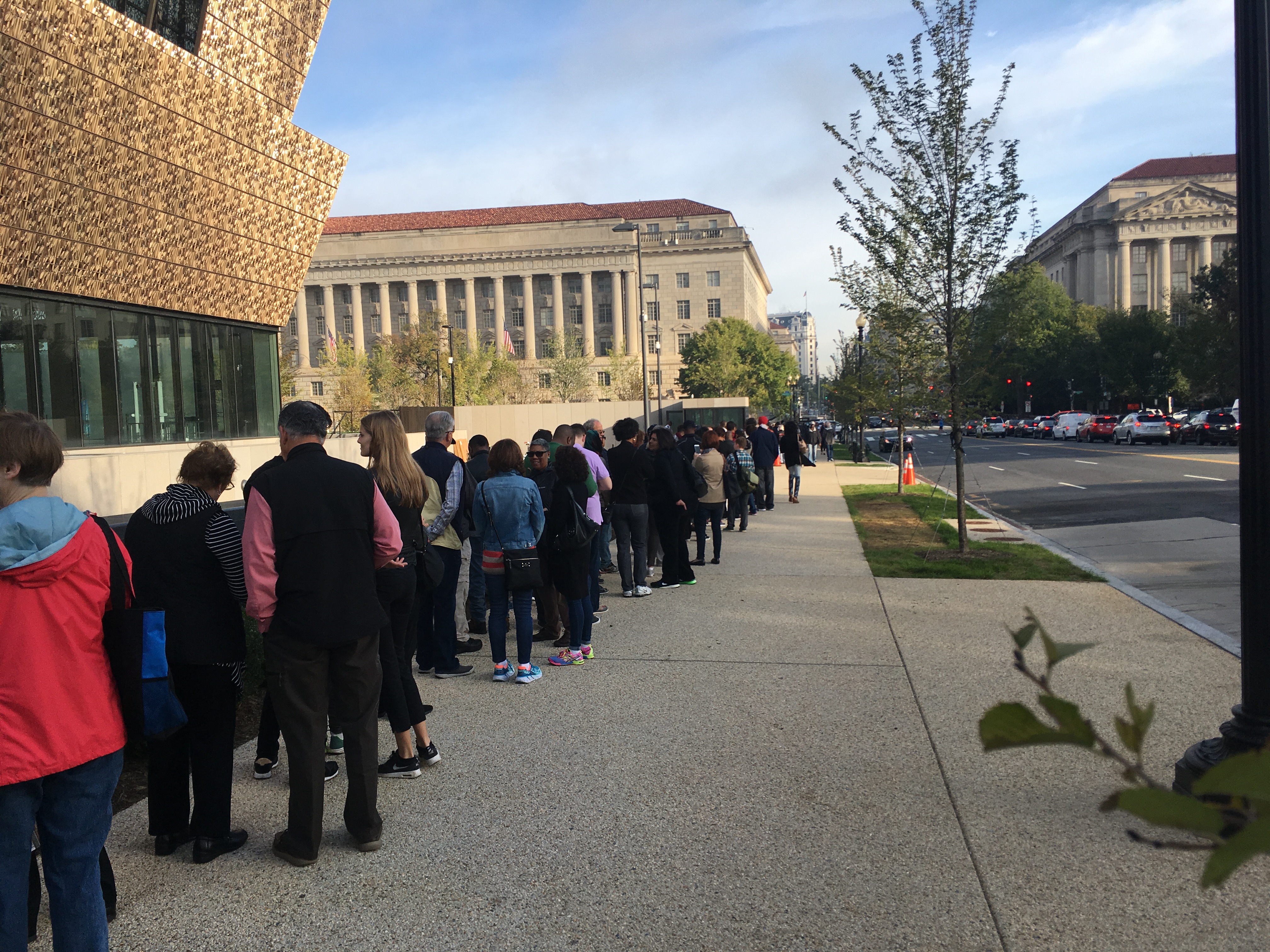 We didn't get in so I can't talk about the actual museum (although I plan to go with my family in March, so might have more to say later). But what I can talk about is the overwhelming excitement and feeling of camaraderie as we waited to get in. We got to the line around 8:05, and were so close to getting in. If we'd been about 10-15 minutes earlier, we would have been in the pretty large group of people that got into the museum with their generous same-day passes (distributed at 9:15). The pre-sold tickets to the museum are currently sold-out through March 2017, but each day the museum reserves several "Same Day Timed Passes" to try to welcome as many people as possible, both those with reservations and those without. The line had between 200 and 300 people waiting to get in (rough observed estimate, I didn't count), and I'd say we were almost in the middle of that group. The line was made up of a mix of African Americans, white Americans, other ethnicities, and I heard one man proclaim to a guide that "even the Canadians" were making the trip down to the museum! It was a lovely display of exactly what the museum is trying to highlight, #apeoplesjourney and "A Nation's History." The museum is for everyone. And we all have the opportunity to explore this new and exciting display of an integral part of American history, culture, and community. I can't wait to check it out sometime next year.
National Air and Space Museum
I had been to the Air and Space Museum many many times (my family lived near DC growing up, so we frequently explored the museums and monuments whenever relatives came to town), but Lia and Sarah had never been before, so we quickly chose to explore this one. Like I usually do, I quickly passed by the fighter plane and war plane exhibits for the (in my opinion) way cooler part of the museum. I spent most of my time in the moon exhibits while Sarah, Lia, and Cass explored other parts of the museum and, of course, went to get some freeze dried ice cream. Duh.
The aeronautical collection began in 1876 but didn't occupy its current building on the National Mall until 1976, and it has grown to be the largest of the Smithsonian's 19 museums. Although the exhibits have developed over time, when exploring the museum it is easy to see that a lot of the exhibits are outdated. We each noticed this about the museum and that actually sparked our biggest discussion once we left. It wasn't actually about the content of the museum, but instead about curating and maintaining exhibits. Sarah asked us "If you had the funding to redesign a museum, what would you keep, what would you toss, and where could you begin from scratch?" Specifically at Air and Space, so much of the content is artifacts; actual pieces of planes and spacecraft, so we all agreed we could keep the actual pieces while updating what we said about them. This is a constant discussion for the ASC's education department because we are always archiving our work (artistic, educational, and now administrative and marketing). We actually have three archival interns at the moment because there's so much material to process. Although we don't have our archived material on display, we are constantly cataloguing and rotating our data between our two locations, and visiting other theatres and museums offers important insight into how to catalogue and maintain our own historic records to make them as easily accessible to as many parties as need them in the future.
Rasika
Rasika is one of our boss's favorite restaurant. For my birthday last year, he tried to take me there for dinner, but we couldn't get in. The four of us did get in for a lunch reservation and were joined by an intern from the Contemporary American Theatre Festival, based in Shepherdstown, West Virginia. She wanted to meet with us to discuss our community outreach and our interaction with our audiences before, during, and after they attend a production at our theatre. We were able to answer a lot of her questions, but are also arranging for her to speak with our development team members.
The five of us sat down for a delicious Indian meal in which I can honestly say I don't remember what everyone ordered. We did begin with an order of Palak Chaat, which is a crispy spinach appetizer with sweet yogurt. It was amazing and I could have eaten just that. Everyone else ordered some form of meat or veggie/sauce/rice dish, varying in color, spice, flavor but similar in deliciousness. I ordered tandoori salmon that was the most tender piece of fish I've ever eaten. Finally getting to try this famous Indian restaurant was well worth the wait.
Folger Shakespeare Library
For the rest of the afternoon Sarah had arranged for us to meet with two leading members of the Digital Media and Publications team at the Folger; first with Michael Poston, the Database Applications Associate, and second with Eric Johnson, the Director of Digital Access. Poston showed us his current projects, an online version of the works of Christopher Marlowe (similar to Open Source Shakespeare from what I can tell) and a transcribing database of Early Modern manuscripts (less theatre history specifically, more all-of-the-things history). I must admit, I didn't follow everything he was talking about, but, man, were Cass and Lia excited. I was most excited by Poston's palpable enthusiasm for his own project. His hospitality and openness to take the time to engage with us was the best part of the meeting.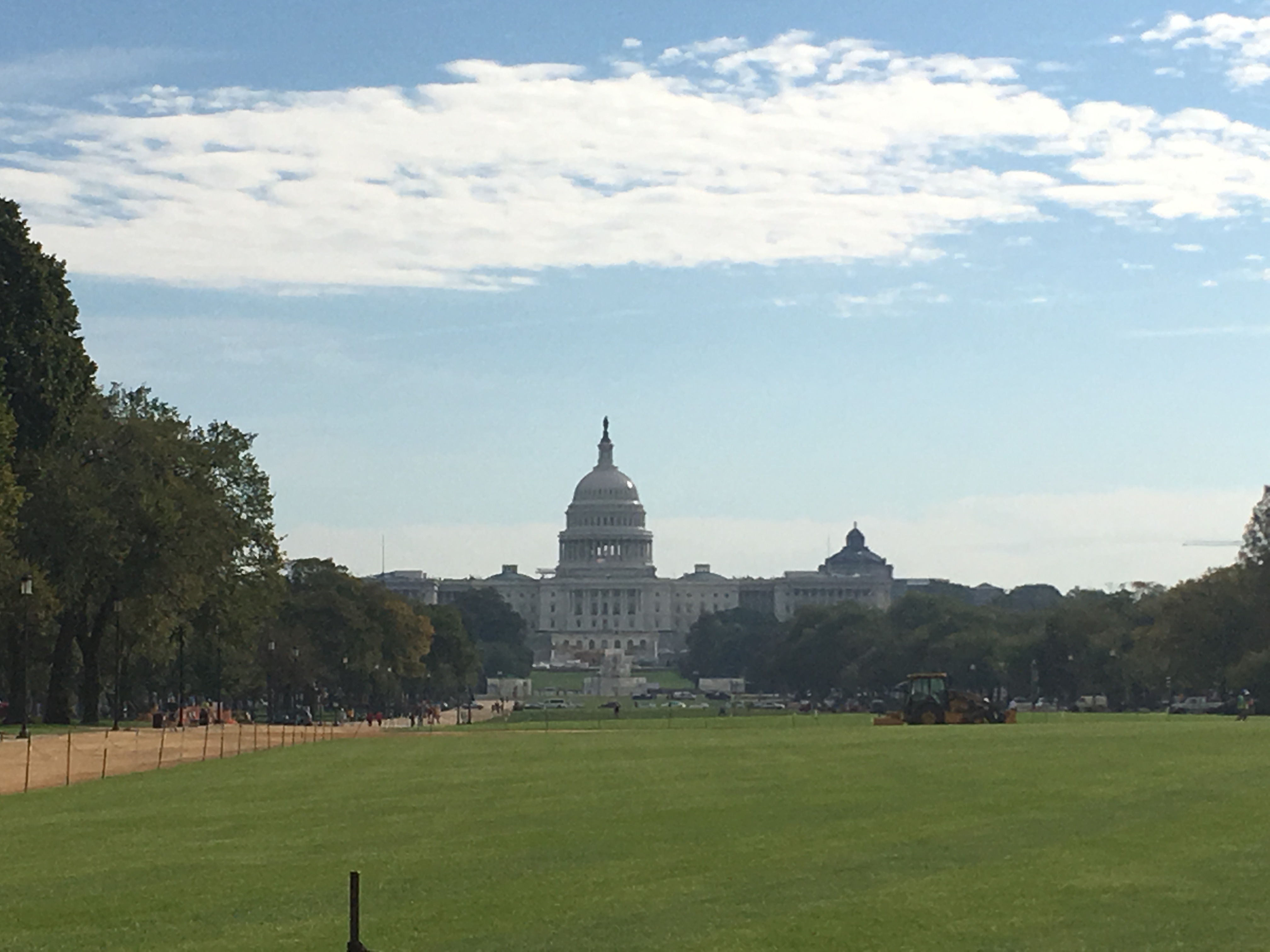 We then had about a forty-five minute break before our meeting with Johnson, so Sarah and Cass explored the Jane Austen/Shakespeare exhibit currently in residence at the Folger while Lia and I wandered over to Capitol Hill to visit my sister on her lunch break who works as a clerk for the House of Representatives. Sarah loves Austen's work and was excited about the mash-up of two great writers.
After the break, we met with Eric Johnson. While Johnson manages the various digital programs at the Folger and oversees Shakespeare Quarterly, he is most famous for creating Open Source Shakespeare, one of the most widely-used Shakespeare research resources. Lia was excited because the last time she met Johnson, she fangirled a little too hard, although he had no memory of the meeting. We had a nice chat, but I was mostly excited to see his collection of Washington Nationals memorabilia in his office. Again, I don't always follow the academic depth of the conversation, but Johnson was friendly and welcoming in all the best ways.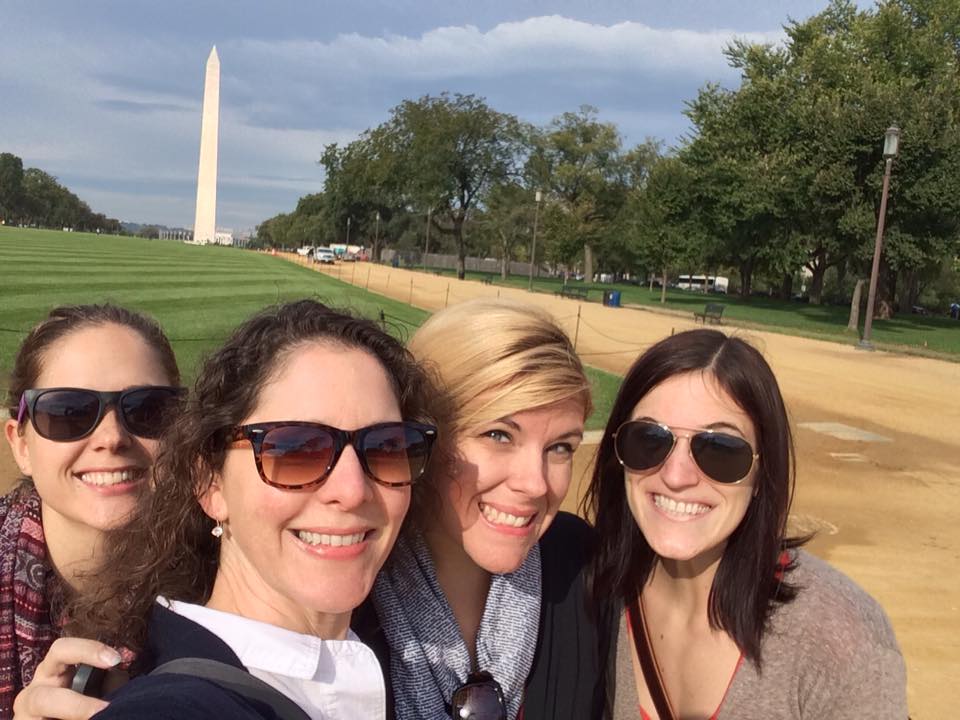 What We Learned
Although I'd been to the Smithsonian before and I wasn't as enthused by the online academic resources as Lia and Cass were (but who is, really?), I can say I learned a lot about the exhibits, playhouses, and museums different from ours, and those that were similar. At every place we went, we were greeted warmly and openly, encouraged to participate, and welcomed to return. No matter where we go for future retreats, at least the four of us will get to go together and learn more about each other and the world around us. If engaging in the local, diverse, and exciting cultural and theatrical environment is the goal, I'd say we aced this retreat. If learning about each other as a team and as individuals was the goal, top of the class there too. Overall, I was grateful to take two days to learn about my team and, more importantly, how we as a team can fit into the world around us.
(Photo credit: Sarah Enloe)