Support the aSC
As the 2023 season draws to a close, and the final rhyming couplet reverberates through the Playhouse, we extend heartfelt gratitude for the pivotal role you played in making this 35th Anniversary possible. Amidst the challenges faced by the theatre industry—with 2-3 theatre companies closing every month across the country—we find ourselves at a critical juncture. Your return to the Blackfriars Playhouse has allowed us to withstand this seismic shift. Yet, there is more we aspire to achieve. We not only want to survive, we want to thrive. To do so, we need your help.
Your contribution directly impacts our ability to serve the community of Staunton, expand our programming to local underserved communities, and bring in lauded artistic voices from across the nation and the globe. With your support, we ushered in over 35,000 audience members for 272 performances in 2023. We brought the magic of Shakespeare to over 7,000 students from 190 schools through our student matinees and welcomed over 150 scholars, students, and practitioners to the long-awaited return of the Blackfriars Conference. We are expanding our digital presence by connecting pop culture to Shakespeare's plays and inspiring younger generations to embrace a passion for Shakespeare. Above all, we are producing a more accessible and inclusive ASC—creating a community in the Blackfriars Playhouse and beyond.
Please consider making a gift of support as we begin the next 35 years of innovation and imagination. Whether it's through the enclosed envelope, shared stocks, or our online donation form, your contribution will play a vital role in transforming challenges into opportunities and sustaining the magic of live performances for years to come.
Ways to Give

We are pleased to offer many ways to support the American Shakespeare Center. However you choose to give, we are thankful for your generosity.

By phone:

To make a gift by credit card or all other methods (i.e. gifts of stock, wire transfers, IRA Charitable Rollover) over the phone during regular business hours (Tuesday – Friday 8:00am -3pm), please call the Development Department at 540-885-5588 extension 114.
If calling outside the administrative office hours, please call the box office at 1-877-682-4236.
The Box Office is open Wednesday-Friday 1-5 PM and Saturday/Sunday 12-4 PM

By mail: 

For Checks– please make payable to the American Shakespeare Center and send to:

Attn: Development Office

American Shakespeare Center

20 S. New St., 4th Floor

Staunton, VA 24401

By STOCKS: 

The American Shakespeare Center gratefully accepts donations of publicly traded securities including stock, bonds, and mutual funds. Visit the "Donate Stocks, Bonds, or Mutual Funds" tab for details.

Online:

To make an immediate gift today…
The American Shakespeare Center (ASC) strives to maintain fiscal excellence and transparency. Access to all ASC revenue and expenses (990s) for the past 10 fiscal years and our most recent audit can be accessed via our Financial Information page.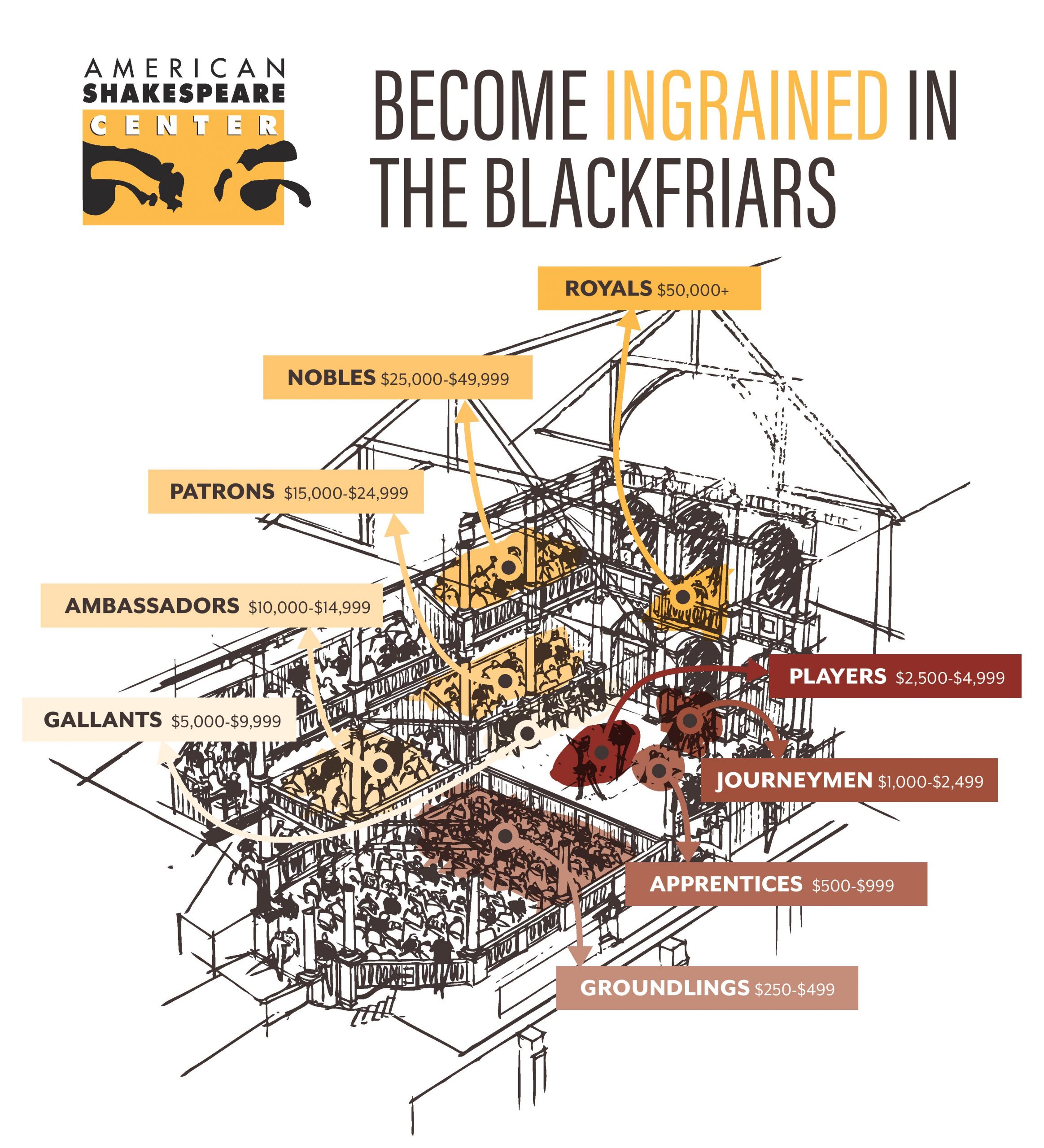 Make your commitment ongoing.
Epizeuxis is the rhetorical device which denotes the repetition of words, for example, Hamlet's famous phrase Words, words, words. Members of this society have pledged ongoing monthly or quarterly gifts.
Even just $10/month – the price of a couple of lattes – adds up to more than $100 annually.
Maximize the impact of your gift with employer matching.
Check with your Human Resource Department to see what options are available through your workplace.
Often, all you need to do is fill out your company's gift-matching form, and submit online or send it along with your donation to ASC. Sometimes your company will match your gift even if you've retired, or they will provide monetary donations to match your volunteer hours.
The following is an incomprehensive list of companies who have matching gift programs and/or have generously matched gifts for ASC in the past.
Aetna
Allstate Insurance
Ameritech
AT&T
Augusta Health
Bank of America
BMO Harris Bank, N.A.
Briggs and Morgan, P.A.
Cadence
Chase
Chevron
Deutsche Bank
Dominion
ExxonMobil
Fannie Mae
First Citizens National Bank
IBM
Merrill Lynch
Norfolk Southern
Pfizer
Walmart
Voya Financial
DONATE SECURITIES TO ASC AND INCREASE YOUR TAX DEDUCTION.
The American Shakespeare Center (ASC) gratefully accepts donations of publicly traded securities including stock, bonds, and mutual funds. In most cases, donors can take a tax deduction for the full fair market value of the security.
Follow these easy steps:
1. Contact our development team at development@americanshakespearecenter.com to alert us of your impending transfer. Please include:
– Your name
– The type and name of the security
– The number of shares (for stock or mutual funds)
– The approximate value of your transfer
2. Contact your broker to initiate the transfer to ASC's account.
Our Account Information:
ASC Brokerage Contact: Dana Caun, Truist Bank, 540-886-2396
For electronic transfers: DTC #0226
FBO: American Shakespeare Center
EIN# 54-1487955
Account Number: WA7-118416
3. Truist Bank will document the receipt and sale of the donated security. The American Shakespeare Center will send you an acknowledgment letter for tax purposes.
Questions? Contact us at development@americanshakespearecenter.com.
Make a difference in the life of a high school camper.
The ASC Theatre Camp is America's preeminent college prep program for Shakespeare scholarship and performance.  Each year over 70 students gain practical skills in theatre performance and connections that last lifetimes.
The Sidney Stark III Memorial Scholarship Fund supports the American Shakespeare Center's Theatre Camp which empowers high school students to leap into college life through the learning experiences within Shakespeare's text. Named for Sidney Stark, an English teacher who dedicated his life to sharing the joy of language, this fund invests in students' performance training, academic exploration, and the opportunity to share their passion with new friends from across the country.
We hear from students every year who are eager to participate, but can't afford the cost of camp.  That's we we started the ASCTC Scholarship Fund – so generous patrons can make a difference in the lives of our campers.
With your gift, we can help more high school students rediscover the universality of Shakespeare's language, and make that treasure their own. We can expand the reach and impact of ASCTC to a broader range of campers, from here in Staunton and throughout the United States.
 Learn about ASC Theatre Camp  Donate
Shakespeare had a soundtrack.
You can help support ours.
Music is an integral part of every ASC performance onstage at the Blackfriars Playhouse. The Band Candy benefit fund is an opportunity for you to directly support the musicians you love at the American Shakespeare Center.

Your gift will be used to purchase new in-house instruments; provide music lessons, upkeep, and repairs; pay musician salaries; and so much more. Next time you see actors whaling on a shiny new saxophone, you'll know you helped put it in their hands.

Questions? E-mail development@americanshakespearecenter.com