Just because the Blackfriars Playhouse is a theatre which embraces Shakespeare's staging conditions doesn't mean that we don't use technology in our shows; it means that we use technology that would have been available to Shakespeare and his company, and in many cases, those techniques can produce dazzling effects. Watching the 2013 Actors' Renaissance Season troupe rehearse Julius Caesar allowed me to see the wonderful resourcefulness and creativity that goes into creating a spectacle on the Blackfriars Playhouse stage.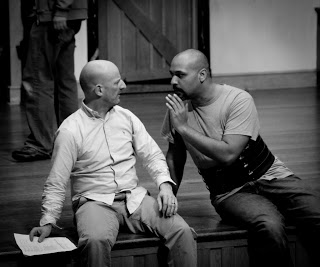 Dan Kennedy and Rene Thornton Jr.;
photo by Jay McClure
I talked in my last blog post about the traffic patterns backstage, and those patterns are particularly important during the storm scene in Julius Caesar — which actually crosses over parts of four scenes, from 1.3 through 2.3. Even when only two or three characters appear on-stage, every actor in the troupe has something to do, either creating special effects or preparing to enter — or, very often, one and then the other, in rapid succession. It puts me in mind of a swimming swan: the surface image may be polished and serene, but underneath the water, there's an energetic whorl of action. Conversations during the storm creation process then depended largely on who could be where when and for how long. Alli Glenzer, for example, is creating a visual effect using the Rose Window, which is a bit of a hike from the stage, and so she had to figure out how much of the storm she could create that effect for in order to leave her enough time to make her entrance in 2.1. Who could take over the thunder sheets so that Ben Curns could get downstairs for his entrance in 2.2? How long should the ocean drum keep going before it becomes distracting? Is this "thunder and lightning" cue long, short, or medium? The troupe had to negotiate all of these considerations to form a coherent scene.
Many of the special effects also demonstrate the benefit of a repertory troupe. While putting the storm together, I heard John Harrell say, "Remember what we discovered last year, about the bass on the piano?" He set to work re-creating that sound, and Friday night, I heard another audience member commenting on it as part of the soundscape. Other influences came from recent productions both in Ren Seasons and Summer and Fall Seasons, from The Tempest, from Dido, Queen of Carthage, from The Roman Actor. Conversely, for the battle noises in Act Five and the flourishes throughout, the troupe consciously chose not to use the same effects they have been using in the past. For four years now, the Ren Season has featured the three Henry VI plays and Richard III, and those plays have used similar soundscapes, creating a coherent thread throughout the tetralogy: identifiable trumpet calls for coming and going, the clashing of swords backstage accompanied by shouts to create the alarums. For Julius Caesar, the troop decided to use different musical cues for flourishes and to keep up a military stomping backstage during the battle scenes. The effect is striking, invoking the lock-step precision of the vast Roman legions without ever needing to see more than a few soldiers on-stage. The march took a lot of practice, though, and as Alli Glenzer pointed out, several scenes' worth of stomping gave her character Strato a perfectly good reason to be falling asleep while Brutus is trying to find someone to assist his suicide. When the soldiers in 5.5 enter tired, the off-stage needs of the show have informed their on-stage performance in an unexpected way.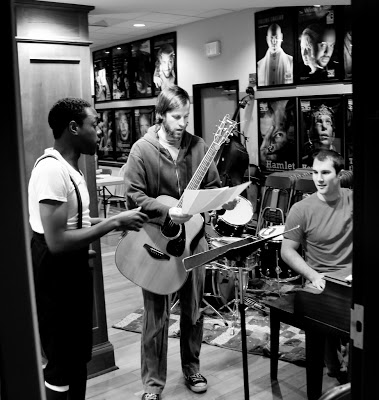 Ronald Peet, Chris Johnston, and Grant Davis; photo by Jay McClure
Almost all Shakespeare plays call for more sound cues than I think most of us are aware of when we just read the play, and it isn't just for the "big" moments like storms or battles. All of those stage directions for flourish, sennet, tucket, alarum just sort of fade into the background. As I sat watching our troupe walk through the cue-to-cue Julius Caesar on the Thursday afternoon of their three-day rehearsal process, I became consciously aware of just how much has to go on back-stage to make the story on-stage make sense. In order for Cassius to say "the clock hath strucken three," someone has to be upstairs striking a chime. Before Brutus can tell Lucius to see who's at the gate, someone has to knock. Almost every scene has some such requirement, and at the ASC, none of those noises are electronically-generated or automated. Music forms part of the soundscape of the play as well, both during the pre-show and interlude and within the play itself. Julius Caesar opens with "Clap Your Hands" by The Reverend Peyton's Big Damn Band, a wonderful piece which calls for clapping, stomping, and cheering from the audience, setting the mood perfectly for the jubilant chaos of the first scene. As Lucius in 4.2, Ronald Peet plays Aimee Mann's "Wise Up" as a "sleepy tune," and the lyrics ("It's not what you thought when you first began it," for example) perfectly suit Brutus's increasingly difficult situation.
Not all of the special effects in Julius Caesar are auditory in nature or occur from off-stage. While in many plays, you can get away with leaving blood out of murders and battles, in this play, the text calls too much attention to the viscera. At least in Caesar's assassination, the audience needs to see the red run. While some productions in recent decades have chosen to stylize the blood, using cloth or ribbons, our actors opted for liquid. It makes sense with the text, since Shakespeare makes so much of the ability of blood to transfer visibly from Caesar's corpse onto various hands and daggers. In order for those "purpled hands" to "reek and smoke," in order for Antony to shake all those "bloodied fingers," the audience needs to see what a mess an assassination makes. Our Caesar, Ben Curns, worked with Costume Manager Erin West to create a trick shirt — identical to the white dress shirt he wears throughout the rest of the role, but in which he can conceal six blood packets, one for each conspirator. In Shakespeare's day, these blood packets might have been actual bladders filled with pig's blood procured from the local butcher's shop. Today, we use a laundry-friendly syrupy solution.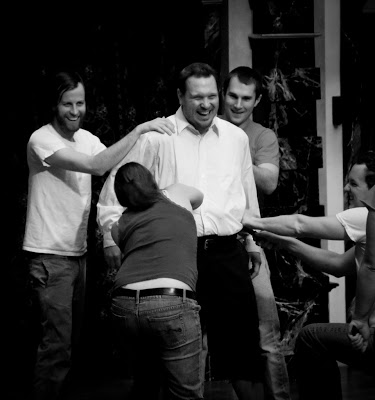 Chris Johnston, Sarah Fallon, Ben Curns, Grant Davis,
and John Harrell; photo by Jay McClure
The effect when all six blood packets pop is delightfully gruesome, but getting all six to pop took some practice. It adds an additional level of difficulty to the combat of that scene — already tricky, given the number of people involved. Each of the actors not only has to be exquisitely precise about how they place their hands and daggers, but they have to find a way to squeeze, smack, twist, or otherwise puncture the blood packets, and they only have a brief second or two in which to do so. The picture at left shows what happened during the first attempt, when several of the cast members had trouble. By Saturday night, however, they had it — all of the packets popped to great effect, allowing Ben to clutch at his supposedly spilling guts, then touch René Thornton (playing Brutus), leaving a visible streak on his face. The conspirators had plenty of blood to bathe their hands in, and the scarlet sheen glinted off of their daggers. It makes their exit a more striking image, and I realized, from a practical standpoint, why Shakespeare might specify that they exit "waving [their] red weapons o'er [their] heads" — it keeps them from touching any doors or curtains before they have a chance to wash up. Caesar lay bleeding on the stage for several minutes more, and when Antony and a servant dragged him off at the end, a vivid smear trailed behind him.
These special effects under the creative constraints of Shakespeare's staging conditions illustrate clearly the blend of practicality and theatricality that dictates production at the ASC all year, and which drives shows during the Ren Season in particular. The actors are looking for simple answers to their problems, yes, but without sacrificing impact to the audience. Sitting in the rehearsal room during the building of the storm, I could feel the actors' excitement building over the discoveries they were making and the solutions they were building. There was a current of satisfaction as it came together, with several of the actors commenting on how very "cool" the effects were. This is part of why we, in ASC Education, encourage teachers to explore the value in Shakespeare's technology. Sometimes the challenge of working as Shakespeare's company would have yields results that are all the more impressive and more satisfying.