Julius Caesar is now up on its feet, and as dramaturg, I bore witness to the orchestrated frenzy that put an entire show together in three days of rehearsal. For any readers unfamiliar with the ASC's Actors' Renaissance Season, it is the time of year when we employ some of Shakespeare's rehearsal conditions in addition to the staging conditions that we embrace year-round. Our actors direct themselves, determine their own schedules, plan their own music for the preshow and interlude, pull their costumes from our stock — and do it all in a fraction of the rehearsal time as the shows in our Summer and Fall Seasons. Since we began the accelerated start-up and short rehearsal time for the first show of the Ren Season in 2009, that first show has typically been a popular comedy that our actors are familiar with and can put up quickly (A Midsummer Night's Dream, Twelfth Night, The Comedy of Errors, and Much Ado about Nothing). This year, the actors take a crack at Julius Caesar in the first slot, a show which was last performed by the 2006-2007 touring troupe, and which has not been part of a Summer and Fall Season since the opening of the Playhouse in 2002. This choice thus provided a few extra challenges for the troupe: a historical tragedy, complete with multiple fights, suicides, and an assassination involving a minimum of seven participants, and a show that the ASC has not put on since 2007.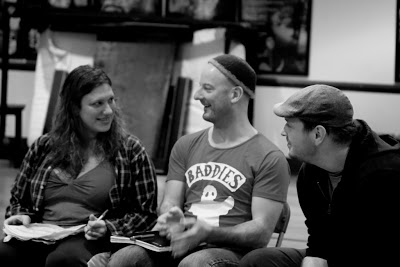 Alli Glenzer, Dan Kennedy, and Ben Curns; photo by Jay McClure
Time is at a premium, particularly for the first show of the season. The troupe had eight hours Tuesday, eight hours Wednesday, and four hours Thursday before their first dress rehearsal, followed by another four hours to tweak and clean up on Friday before the first Pay-What-You-Will preview Friday night — and after opening weekend, there's no respite, as they held their first read-through of The Country Wife Sunday evening. Scheduling becomes hugely important. For this show, one actor (René Thornton, playing Brutus) volunteered to take charge of plotting things out — and then made adjustments based on what the rest of the troupe thought necessary. As a sample, here's the schedule for the first day of rehearsal:
10-10:45 – Morning Meeting
10:45-12 – violence – suicides, Caesar kill, Cinna the Poet, Act 5 skirmishes
12-12:30 – 1.1
12:30-1 – 1.2 A and C
1-2 – 1.2 B and D (stage) – music (Tyson)
2-3 – lunch break
3-3:30 – 2.1 C and D (stage) – 1.3 A and C (Tyson)
3:30-4:15 – 2.1 A and B
4:15-5 – 2.2 A (stage) – 4.2 B (Tyson)- 2.4 (lobby)
5-5:15 – 2.2 B
5:20-7 – 3.1 A-D
So that was the first half of the play, shot through in eight hours. The morning meeting was longer on the first day than any other, simply because it was the beginning of the season. The entire production team — including Artistic Director Jim Warren, Associate Artistic Director Jay McClure, Costume Shop Manager Erin West, Properties Manager Chris Moneymaker, and dramaturg yours truly — had some notes to give to start things out. They also started throwing together a music list on the whiteboard, knowing that music rehearsals during the Ren Season can often be catch-as-catch-can, and that the earlier they had some ideas to start on, the more prepared they could get by Friday.
This schedule also points to what the issues of largest and most pressing concern often are: the most complex scenes, with the most bodies on stage and with more elaborate blocking needs. Anything involving combat takes additional time to choreograph so that it will be both safe and entertaining. Ben Curns took responsibility for fights for this show and had already blocked some things out in his head, but they still needed to set aside a lot of time for the actors involved to learn the movements — and for adjustments to occur.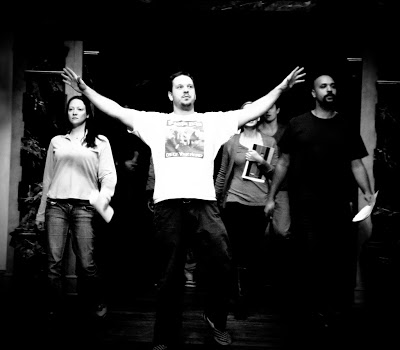 Sarah Fallon, Ben Curns, Rene Thornton Jr.; photo by Jay McClure
As I watched the rehearsals, the phrase I heard over and over again was: "That's a shape." The actors would invoke this phrase when they had gotten to the end of a scene with something workable, usually in regards to the blocking. The scene wasn't finished, it wasn't perfect, but it had a shape — a general outline, an idea of who needed to be where when. Hearing that phrase over and over again got me thinking about the ways in which shape and place matter, both on-stage and off-, during the Ren Season.
Often, more time goes into rehearsing entrances and exits than into the meat of the scene itself. (This only works, of course, because ASC actors are already well-trained in textual matters, and it's part of the reason all members of ARS troupes are veterans of the Blackfriars Playhouse). Julius Caesar features a lot of group entrances and a lot of scenes with between 6 and 12 bodies on stage. Looking at that schedule for the first day shows that: 1.1 only has four characters on stage, but the audience is involved as well, one actor had to change into a costume from the pre-show, another had to get downstairs after playing music, and the actors had to negotiate props on top of it. 1.2 involves a ceremonial entrance and exit Caesar and his train, off-stage shouting, a flurried re-entry of all the characters who just went off, and their final exit. It also involves a long conversation between Brutus and Cassius, but, while René and Sarah Fallon worked that on their own, the most stage rehearsal time went to choreographing those group entrances and exits. 2.1 involves all of the conspirators coming to Brutus's house — another mass entrance, with specific costume and prop needs — as does 2.2, and 3.1 is the largest scene in the play, with the most characters entering simultaneously, several exits and re-entrances, and, of course, the assassination of Caesar. (1.3 through 2.3 also involve a storm, but more on that in another blog post). And that's just Day One — the second half of the play features the famous plebeian mob and a whole lot of combat.
It takes a lot of work and communication to make all of that run smoothly — and actors won't always nail it on the first try. Some of those entrances they re-worked Friday afternoon, after the dress rehearsal, and some they tweaked along the way. The flow on-stage isn't the only problem, after all, and some issues only became apparent during the dress. Grant Davis and Ronald Peet, for example, realized that they needed more time after their exit in 1.1, so on Friday afternoon, they worked with Alli Glenzer and Dan Kennedy to figure out a way to hustle them off-stage faster, giving them more time to change. Other problems are architectural in nature, examples of the space itself influencing the work. Gr
eg Phelps, as Antony in 3.2, only has about two lines to get from the balcony down to the stage, and he has to be there in time for the plebs to notice him and crowd around him. The plebeians had to test out a few different ways of delivering their lines in a way that gave Greg enough time to get down the stairs. Altogether, they probably spent more time on 3.2 than on any other scene in the play. The timing of the plebeians' responses and movements has to be so precise in order to work the way they were hoping for, and as a further complication, many of the lines sound so similar or provide repeated cues. "Wow. That's a lot of 'will's," Greg observed in the middle of one sequence where he heard the word "will" from the plebs eight times, correctly cuing him only twice out of the eight. Finding the right rhythm for the scene took quite a bit of time, effort, and reiteration, but the resulting shape drives the audience along an exhilarating path.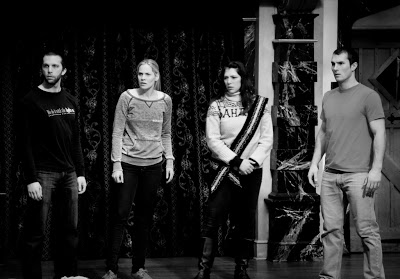 Greg Phelps, Tracie Thomason, Abbi Hawk, and Grant Davis;
photo by Jay McClure
Blocking is a concern off-stage as well. Traffic patterns backstage can be as complex as those on-stage. Especially during Act 5, which involves a lot of rapid entrances and exits, skirmishes, and dragging dead bodies off-stage, I heard the actors discussing who could be in the discovery space or not at which times. But beyond that, the space in the rest of the theatre matters as well. As anyone who has ever taken a Playhouse Tour knows, the actors and production team arrange props and costumes methodically backstage. Chris Moneymaker had to remember to move the ARS props-gathering table away from the area of Tyson inhabited by the Tempt Me Further tour until they head back out on the road, to avoid any collisions or mix-ups. I heard John Harrell refer to the "band corner" — a section of the downstairs area set aside during this time for instruments and music rehearsals. All of these little considerations build together into the background flow of the play, the moving pieces that the audience never sees but which are absolutely critical to a smooth performance.
Throughout the rehearsal process, what struck me most was the blend of communication and organization that makes the Ren Season run. These actors work well together and share a common language, making them a well-oiled machine — even though this precise troupe has never worked together before. Sarah and Dan are returning after seasons away from the ASC, and Ronald, Grant, Abbi Hawk, and Tracie Thomason were all here in 2012 but are new to the Ren Season. The ASC embraces the ensemble nature of theatre and performs in repertory year-round, but the Ren Season brings all of the necessary components into sharper focus. The result is a season unlike any other, full of its own special (and sometimes frenetic) energy.