As a theatre professional, one of my great privileges is having friends in the profession.  Friends I watch onstage at the ASC, friends who perform with other companies, and friends who are brave enough to start their own production companies.  This has been a particularly lucky month, as I've seen the four shows onstage at the American Shakespeare Center; traveled to see the work of brand-spanking-new company Essential Stages (with talented players) in Institute, West Virginia; and made my way down to Atlanta, Georgia to see (at last) the work of dear friends at the Shakespeare Tavern there.  
In West Virginia, Doug Minnerly and his magicians took a bright and unique approach when producing their Comedy of Errors.  Doug and I met in 2015 when he attended our No Kidding Shakespeare Camp (for Adults).  He mentioned starting to think about getting back to his first academic passion — theatre — sometime soon and he was with us to soak up everything he could, having fallen in love with the ASC's plays a couple of seasons earlier.  Little did I know then how serious he was.  He went back to West Virginia and began the groundwork (immense in scope) to form a company and give Shakespeare to his community on a regular basis.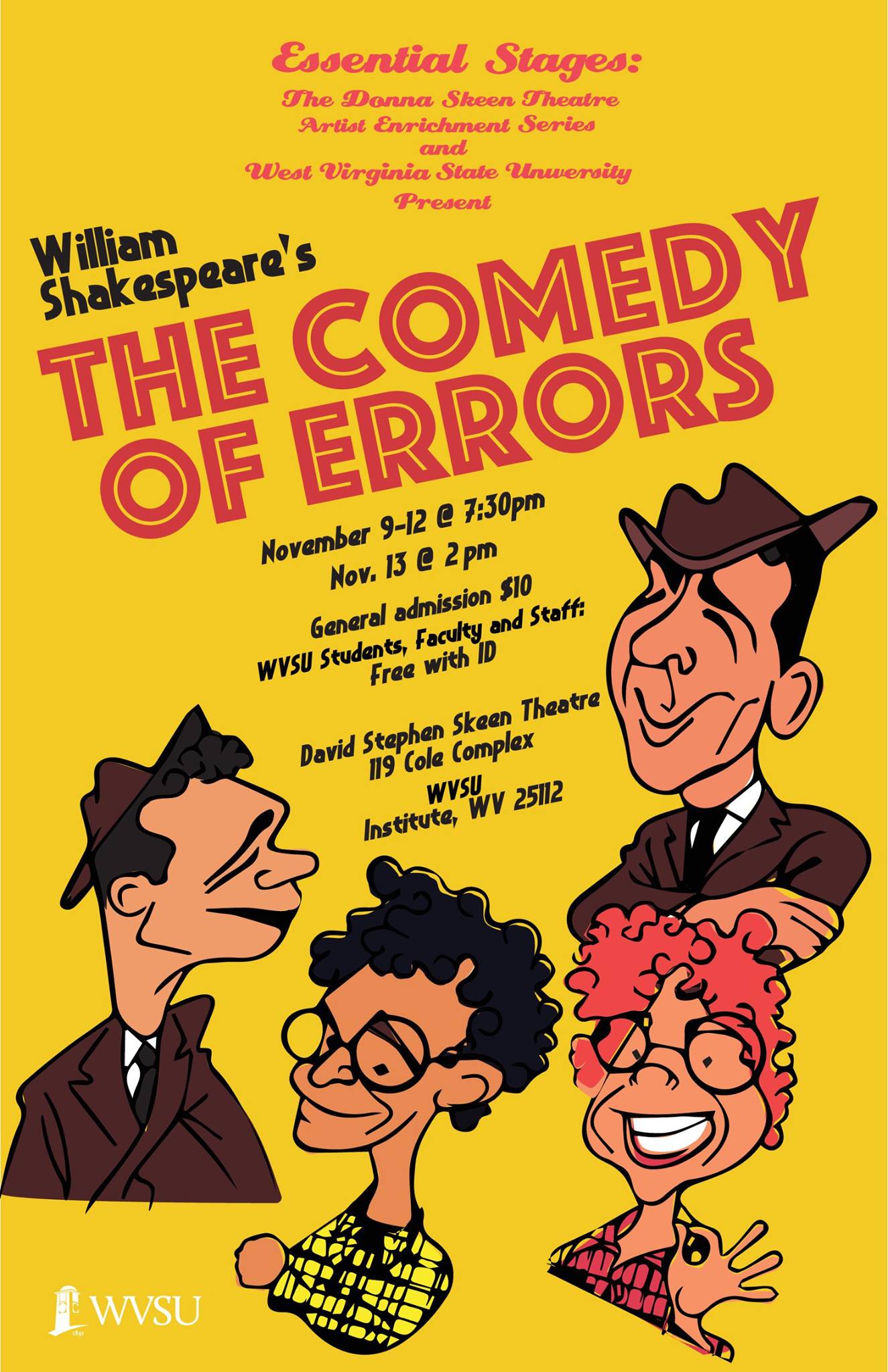 At some point in his work, new avenues presented themselves in the form of a generous donor at West Virginia State University.  This supporter sponsored an artist enrichment series that would do several things for the students at WVSU and the community at large including have a master class with ASC actor Allison Glenzer, produce innovative versions of both Comedy and and Brecht's Good Woman of Setzuan.  If the show I saw is any indication, Doug's part of West Virginia harbors a significant collection of talented and eager theatre practitioners. Innovative musical performances, beautifully designed and accompanied by Jeff Haught, opened the show and continued throughout and at the interlude, setting the scene for what Doug described as as an homage to the Marx Brothers — a notion which suited the play to a tee.  Costumes inspired by the forties and a set with ample flexibility (which echoed the Blackfriars Playhouse's own back drop in structure) invited the audience to transport themselves to another time, a time that worked very well for this "zany" show.  The work the group did on the text in early days of rehearsal created crisp and clear characters who were easy to understand, easy to embrace, and easy to laugh with.
One of the toughest aspects of this show, a crazy comedy by almost all marks, is the opening scene.  Egeus does. go. on.  Because of the pre-show music (performed with great charm by Rob James and Kimberlee Gibson), the delivery of the interminable speech as a musical number was seamless and, believe it or not, fun.  The excellent vocals Will Taylor lent the role of Egeus (and the rousing interlude music) belied his other interest — frontman to a band in the area. Playing against the winning John Campbell as the Duke, the two created a lively and humorous tone which carried through the rest of the production — except whenever the character Adriana appeared onstage.  
Adriana has regularly struck me as a tragic character slotted into a comic play.  Poor woman: her husband is apparently unfaithful, certainly inattentive, and then appears to have gone mad.  Kimberlee Gibson's work in the role was touching and believable.  She lent gravitas, and she was a terrific spoiler to her sister, played well by Keturah DeWeese; to the excellent Dromios, Abigail Miskowiec and Rob James; and to her husband and his twin, played by Jonathan R. Maynard.  Yes, the Antipholi were played by the same actor.  Sometimes necessity in the mother of excellence, and it was in this case.  Jonathan ably coped with what might have been awkward entrances and exits, which seemed to keep him going 90 miles a minute, but he looked completely in charge and made each second on stage count.  Particularly memorable was his duet with Luciana, a bittersweet exploration of confusion.  It seems he may be the quintessential quadruple threat: singer, dancer, actor, and self-doubler.  Patience DeWeese played Luce and the Courtesan distinctly, as the activity of doubling demands.  I particularly enjoyed her turn as an additional character in the first scene between Luciana and Adriana; her deftness with the props actually helped to clarify some moments and lent another perspective to view the scene through.  She followed that turn up with a corseted courtesan who let the audience in on some of her thoughts, something that Jenna Skeen (in multiple roles) also tackled head on with aplomb.  One of the toughest things about working in community theatre is bringing everyone to the same level, for instance, when Mike Murdock, a professional actor and director appears in many of the same scenes with one of the only students in the production, it is imperative that both raise their game — and they both did.  As the merchant, Mike gave Eric Rogers strength by offering him a character that was committed and Eric gave it right back as the Goldsmith and Gaoler.
Doug Minnerly's take on the production was refreshing.  Returning the play to many of the staging conditions Shakespeare's company used — doubling, playing in thrust, sharing light, valuing music — created a team between audience and actors that made each success the more sweet.  If anything, I would say only that more stripping could improve the piece.  Chairs and other set pieces tended to crowd the stage; relying on the actors to convey the feeling without pulling those item in might have saved some valuable rehearsal time.  The cut of the script and musical inclusions kept the show moving at a swift pace.  The talents and skill levels of the cast were well matched to their on-stage responsibilities and the staging was clever, including in-jokes and special effects.  Most of all, I loved that Doug relied on the words of Shakespeare and the talents of his actors to tell the story.  He trusted the audience, and that confidence in their ability to enjoy Shakespeare just as he is paid off dividends.  
The very next week, I had the privilege of seeing many of my colleagues from the Shakespeare Theatre Association in Atlanta.  Atlanta is home to the Atlanta Shakespeare Tavern, a company founded and operating under many of the same principles the American Shakespeare Center embraces.  We share a strong belief that the communal theatrical world Shakespeare wrote for can be re-created by sharing the stories with our audience, by playing close to them, speaking to them, and keeping the text paramount in the production.  Their 3 Henry VI was part of an ambitious undertaking to produce all three in the trilogy in rep this fall. I had wanted to see their work for nearly a decade, ever since I'd heard about them, but always managed to be in Atlanta at a time when it wouldn't be possible.  No more.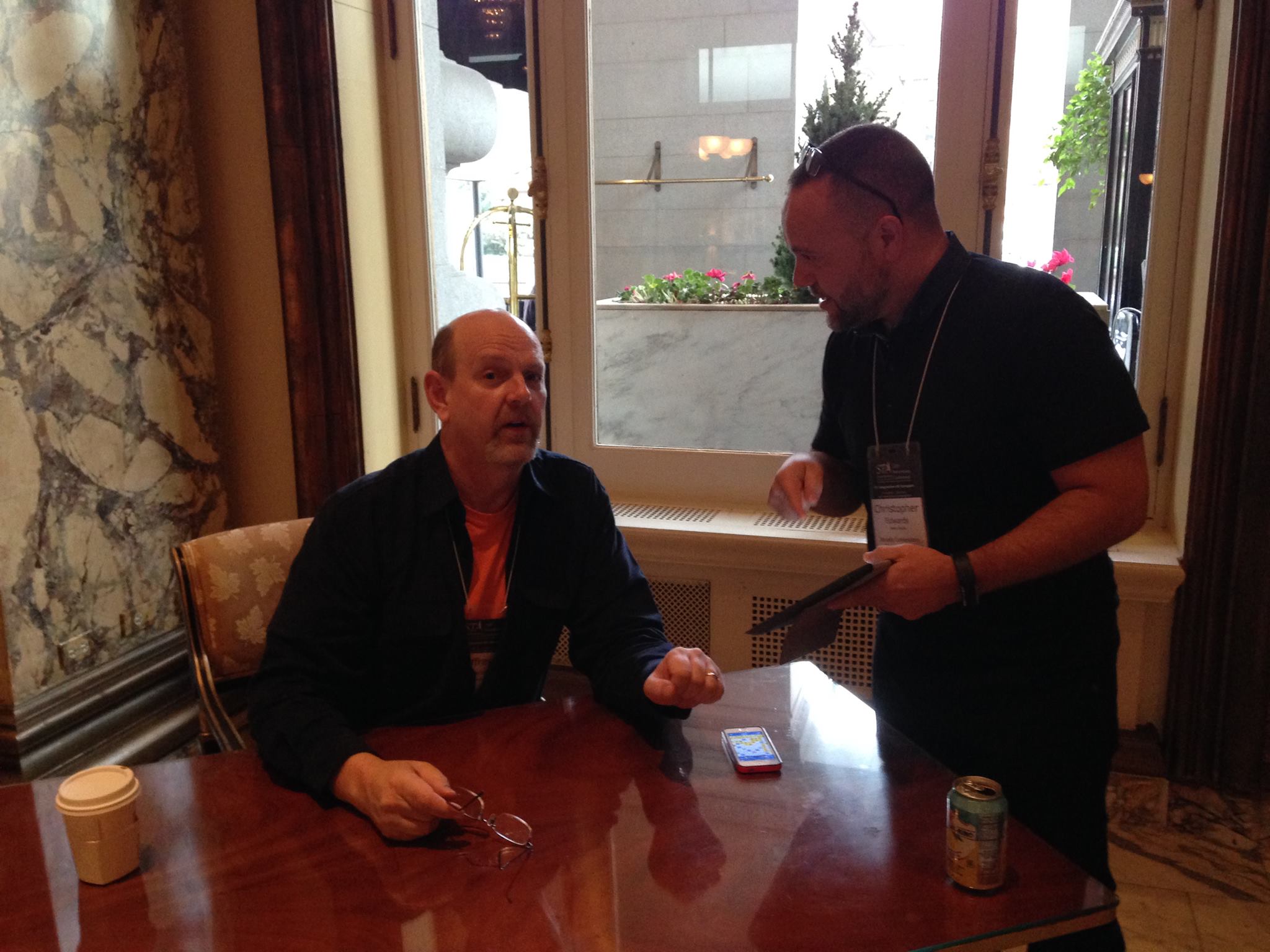 It's not every day that the Henry VIes are readily available for audience consumption, but this fall has offered multiple opportunities to me, for which I am grateful.  Chicago Shakespeare Theatre, another STA member, did a brilliant conflation which I got to see in September, ASC just wrapped our own 2 Henry VI,  and I was able to round out my feast with this production.  In addition to finally seeing my opposite number, Laura Cole, in role as Lady Gray — doing a smart, sassy take in a fun part — I also got to see the directing work of the man I gladly called El Presidente when I served as his secretary on the STA Executive Committee, and a former ASC intern, Bridget McCarthy (who stole every scene she was in).  I was also able to see the work of several veteran AST company members, including the excellent Mary Ruth Ralston in the title role and the impressive Amee Vyas as Margaret.  I enjoyed especially another education colleague, Andy Houchins, as Richard III, and I hope he goes on to play the role in the trilogy's sequel when it comes into season.   This production used doubling (you almost have to with these shows, unless you have a sizable population of talented actors and endless supplies of cash) very well, and some great turns took place in the younger characters, as Hayley Platt used her stature and skill to bring boys to life.  I will admit (and hopefully not be hit by lightening for doing so) that I am just now, after the compressed viewing this fall, finally following all of the relationships in this epic English History retelling.  
The mere fact that I had the opportunity to experience three productions of this tale in such a short time — because, believe me, I know that it is no simple thing to keep all of the Plantagenets and Lancasters straight (much less all of the Edwards and Richards) — does reinforce my advocacy for Shakespeare performance as a means to teach English History.  I admire the artistic directors who put these (difficult to sell) plays in their season, as they do a service for students of history–which, honestly, has to be everyone. The populism Jack Cade advances in 2 Henry VI is a reflection of our recent election, and it offers us an opportunity to see (and not see) ourselves, our mistakes, our successes. Such presentations of historical figures force us to engage with tough questions and ask ourselves about the choices we make. By understanding our past, we can more clearly see our way to the future.  Let's just hope there aren't as many heads rolling.  So, I am grateful for friends who make that work available, who tell clear stories that bring history to life, and who let us all share in the joy of good theatre.