After the dreaded return to school, were you ever required to distill the frenetic fecundity of your summer through the barren medium of the personal essay, struggling to capture in writing that which demands physicality, imagination, and experiential knowledge?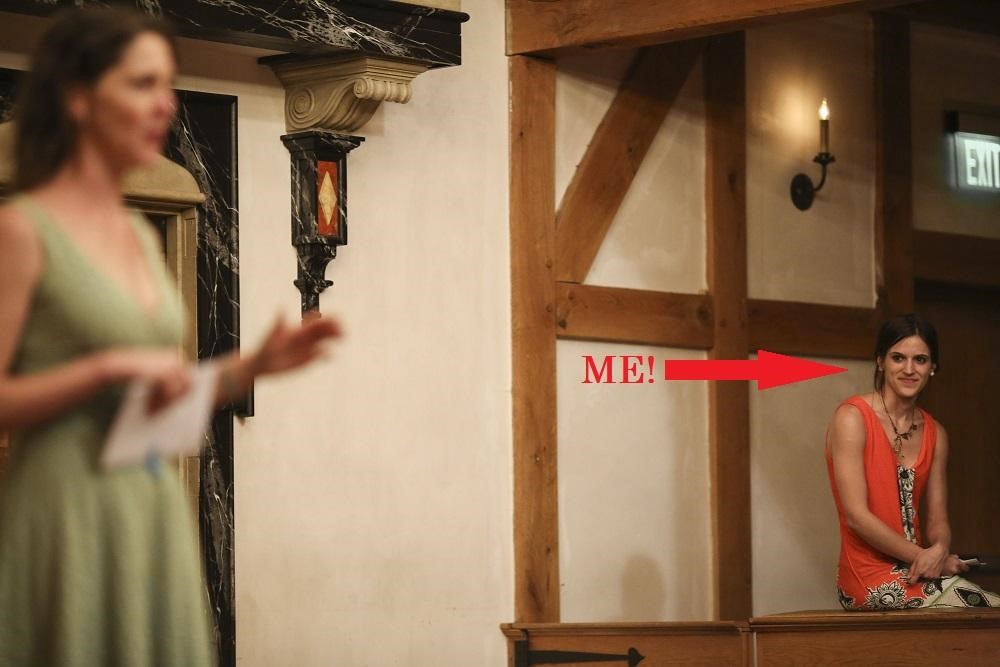 Hi, I'm Lia Wallace. You may remember me from such ASC positions as "education artist," "administrative financial assistant," and "why is that intern still here?". I'm speaking to you today from my newly acquired permanent position of College Prep Programs Manager, and I'm here to give you a retrospective on the 2016 sessions of the ASC Theatre Camp (my first as Camp Director) — or, as I like to call it: Lia Attempts to Adult, Summer Edition. What follows are things I learned, things I learned never to do again, some notable experiences, and ideas for next summer.
1. Adulthood has rules and those rules are terrifying.
The amount of existential angst over choosing a vocation is such a privileged conundrum. When I worked as a waitress, I never thought about "maximizing my professional enjoyment" or "cultivating constructive connections with colleagues." The fact that work sucked was a given that I automatically accepted. Being in school forever was always supposed to pay off with an occupation I actually enjoyed in the field of my studies (I have three degrees in Shakespeare!) as opposed to a job I tolerated in the field of "it pays the rent." I had been interning at the ASC for nearly five years when I was hired full time as the College Prep Programs Manager (aka Camp Director, for the purposes of this blog post) and yet I still didn't realize that working full time for the ASC meant not working in a restaurant at all. In fact, working full time for the ASC put me firmly into the terrifyingly Real World of Adulthood.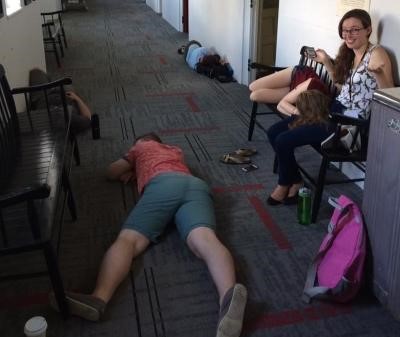 The Real World of Adulthood has strict rules it never explains. What are Adults supposed to wear, and when? How do Adults use Facebook? As an Adult, why is it no longer acceptable to eat ice cream for every meal? My biggest Adult fear was adjusting to a society that runs on a 9-5 schedule. I do not run on a 9-5 schedule, and forcing myself to do so is really hard — and, it turns out, not very good for me. See, I'm a late chronotype. My natural circadian rhythm causes my energy levels to rise and fall a few hours later than the "average" cycle. If left to my druthers, my job hours would be 11am – 8pm (with "lunch" somewhere around 3).
(Side note: I am not lazy – I work as hard or harder than you do. I just do it at a different time.Chronotype discrimination is real! [Editor's Note: You ain't just whistlin' Dixie.])
This is probably why I was an excellent waitress and a successful graduate student. It also makes me a terrible receptionist, an unsuccessful fisher, an effective night watchman, and a really good summer camp director. Because guess who else refuses to live within the 9-5 boundaries of civilized society? Teenagers. Especially the sorts of teenagers that elect to attend a three-week residential Shakespeare theatre camp.
2. Have an Adrienne. And a Tess, if possible. Actually, a whole staff is pretty great.
Of course, the campers didn't universally like to live within my chronotypical boundaries, either. While I was welcome to create lesson plans or write blog updates at 2am if my heart so desired, somebody still needed to be up at 7 with the campers who liked to go running. Somebody had to set the kitchen up and make breakfast (during the first session, when the staff provided all of the food ourselves) or unlock the third-floor door to the dining hall (during the second session, when we had all resoundly learned our lesson) before 9, by which time hungry campers would usually mutiny. Running camp is a manifestly 24-hour-a-day job. I can go without sleep for a while but not forever, so that means running camp can never be a job for one person. Enter Adrienne, my Camp Life Coordinator.
At this point, I should differentiate between Adrienne and the rest of my staff. I hired professional directors to helm each show. I also hired a bevy of counselors dedicated to assisting: they served as both ADs (assistant directors) and very hands-on RAs (resident assistants). I had an administrative intern with a staggering amount of patience regarding my inability to ask productively for help. I don't mean to minimize their efforts; they are all hardworking, competent, delightful human beings and every one of them did excellent work this summer — but nobody ever pretended the position existed without them. I feel that in the context of a theatre summer camp, residential and artistic staff in the form of directors and counselors should be a given. After all, we have dozens of teenagers per session. I am not going to personally look after all of them 24/7, because that is crazy. And though I am loathe to give up any modicum of artistic control, I still never expected to personally and simultaneously direct the 2-4 full productions that we mount each session. I had a lot of help in those areas, and while I am incredibly thankful for that help, I also expected to have it.
You know what I didn't expect? Everything else. Do you know how unbelievably difficult and frustrating it is to compile all the information for each session's final performance program (including headshots of every camper, many of whom are apparently allergic to standing still), format that document and get it printed, correctly and on time, without handing over my first born child? I didn't, either. I also didn't expect the number of sign-up sheets we would use throughout the summer, or the fact that those don't just appear magically when we need them. I didn't expect our first session audition space to be suddenly unavailable due to delayed construction. I didn't expect the carefully built schedule to need constant tweaking. I didn't expect the sheer amount of stuff we'd need and the frequent trips to the store that resulted almost daily. I definitely didn't expect the Spanish Inquisition.
Adrienne compiled, corrected, and produced the programs. She made sign up sheets and schedules. She did CostCo runs, washed mountains of dishes, coordinated all the schedule changes (as well as the staff's time off), finished the construction on the audition space, and converted all the infidels. And she did it while I slept, unaware of any problems. It didn't hurt that she's an early chronotype (cheerfully ready to go at 5:30 AM – but woe to any who try to keep her up past 9:30 at night), and it hurt even less that she learned the ropes of Camp Life Coordination hands-on from her predecessor Tess Garrett, who helped us with Session 1 before entrusting us to do Session 2 on our own. If any aspect of my first summer as Camp Director can be called a success, the credit is likely due to Tess and Adrienne. I frequently find myself receiving praise that should be theirs, and though I will cheerfully accept it (because who doesn't love to be praised?), I am always aware that I owe everything to their dedicated, consistent, and tireless work behind the scenes.
3. Don't attempt to solve problems you don't understand; or, never ever force teenagers to do a staged reading of Henry VIII. Especially not twice.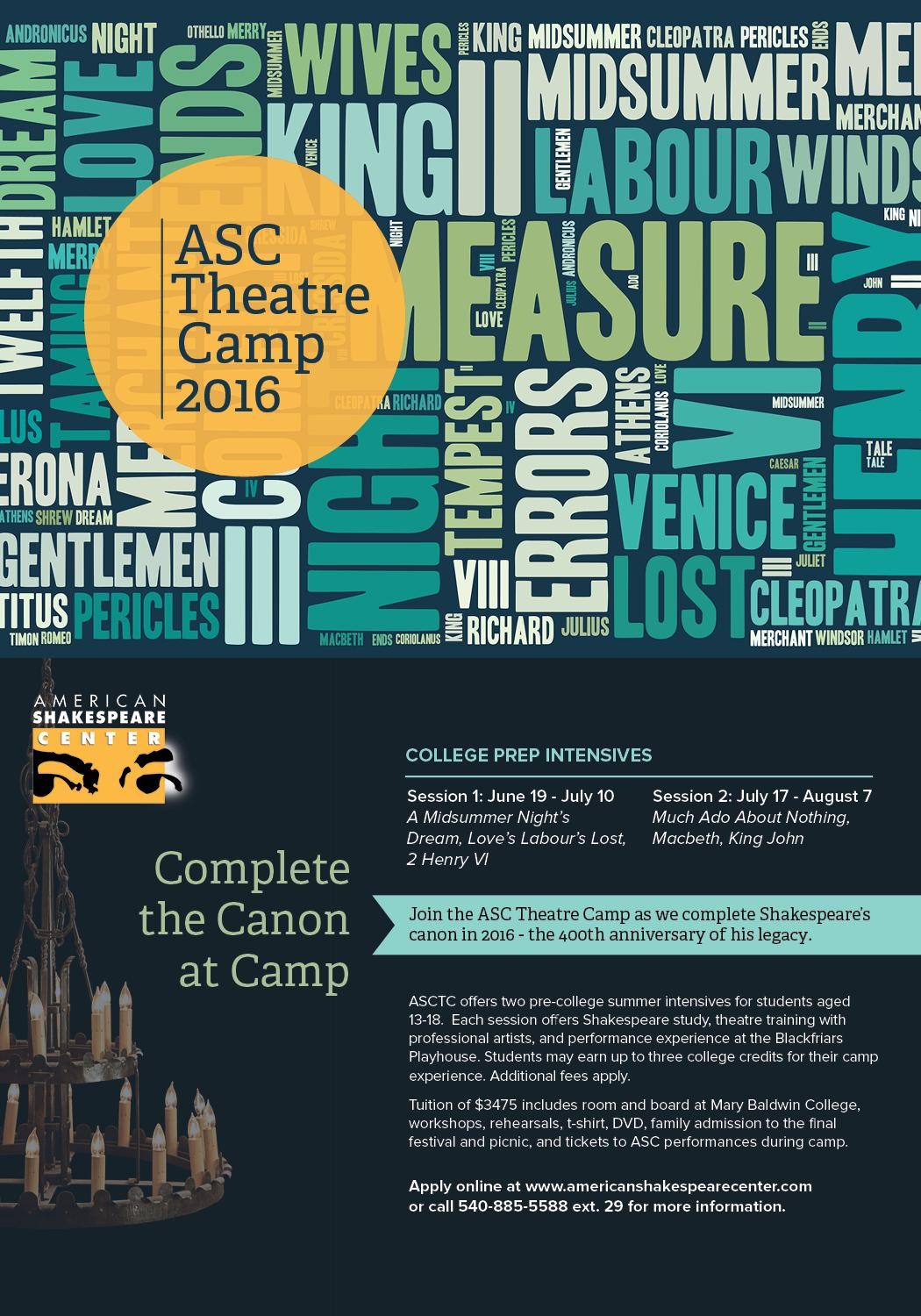 2016 marks 19 summers of the ASC Theatre Camp (including YCTC sessions — the camp's previous moniker was "Young Company Theatre Camp") and the Education team had fomented big plans for our almost-vicennial. The idea cooked up in 2015 was that in 2016, camp would add a two-week college session in May, before the usual three-week sessions intended for high schoolers. These college campers would audition and be cast ahead of time in order to arrive off-book for a Renaissance-style rehearsal experience culminating in a performance of Shakespeare and Fletcher's collaborative play King Henry VIII. This college session production, along with the high school session productions of Henry VI, Part 2 and King John, would unlock a significant achievement in the world of Shakespearean theatre: it would complete the canon. That means that in the 19 summers of its existence, the ASC Theatre Camp has managed to produce at least one performance of every single play (reasonably) attributed to Shakespeare. (Get out of here, Sir Thomas More, nobody invited you. You too, Arden of Faversham. And take Edward III with you!) How exciting! In anticipation of the milestone, all of the marketing materials for ASCTC 2016 proudly trumpeted this achievement by inviting potential campers to come "complete the canon at camp!" (see flyer, left)
This is all well and good, but the idea remained just that: an idea. When I began part-time work in the position in February, the only tangible developments toward this canon-completing college session were an empty Applications folder and those ambitious flyers. Cutting the college session was a difficult decision with many factors behind it — too many for me to explore now — but it had to happen. It would never have been a big deal if one little thing hadn't needled me endlessly: without the college session, we had no camp production if Henry VIII. Without a camp production of Henry VIII, camp would not complete the canon (to my particular standards) in the summer of 2016. Not a big deal in itself — if we hadn't put it all over our marketing material, essentially turning us into big fat canon-uncompleting liars.
Solution! I thought. Camp always features a mid-session performance of some sort, usually a showcase of scenes with elements of music, dance, and combat, though the format had never been definitively set. How about we do a staged reading of Henry VIII? It can have all the benefits of a full (hour-long) production with a professional director without any additional line memorization! I hired two more directors, crossed "canon completion?" off my list, and promptly moved on to the next task. I also congratulated myself on being so clever.
I didn't think about how hard it would be for campers to "showcase" any sort of talent while holding scripts in hand. I didn't think about how Henry VIII, with its baffling plot, unusual character development, and relentlessly plodding grandiose speeches, might be ill-suited to the staged reading medium. I definitely didn't think about the logistics of putting all of the campers into one play — in their main shows, the cast size is between 10-13 — with only a director, no assistants or stage managers, and with every camper required to attend all 20 hours of rehearsal. It was hard enough for the twenty-one campers in session 1, and it only got harder for the thirty-eight of them in session 2.
Credit where credit is due: directors Merlyn Sell and Patrick Harris each did an excellent job with the impossible task I gave them. Some of the campers enjoyed the experience, and in many ways, we allbenefited from the experience. But in the terms of the goals we want this mid-session show to accomplish, I failed miserably — though I definitely learned a valuable lesson. Let's just say that ASCTC 2017 will look mighty different in this regard.
4. I am definitely in the right job.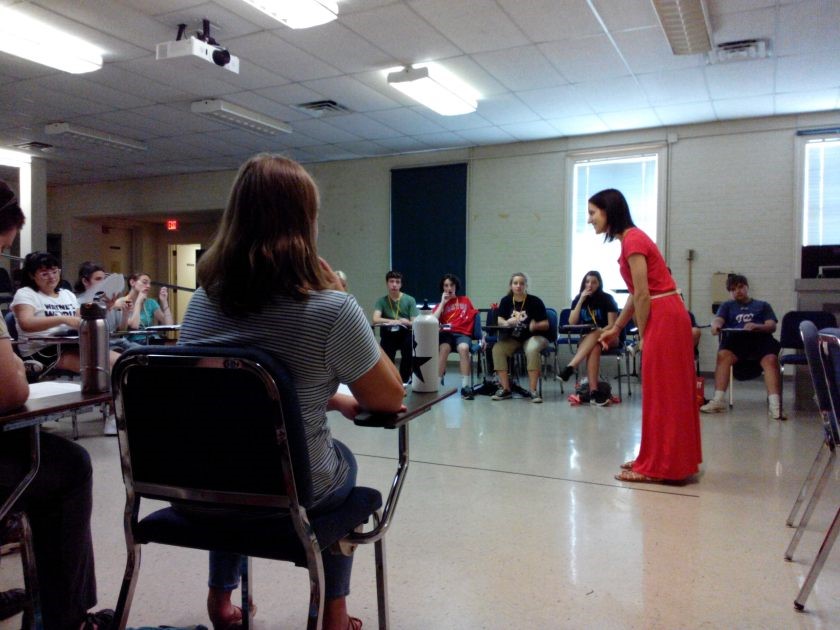 Running camp was hard.
Frustrations and anxiety and fear were ever-present: the fear of failure, the anxiety of ineptitude, the frustration of incompetence.
I messed up a bit in some ways and messed up a lot in others. I never got enough sleep. I often felt like I was failing my staff, failing my campers, and failing their parents. Many times throughout the summer I wondered whether the reward of succeeding at my Real World job and legitimizing my Adulthood status would be worth the day-to-day struggles of being responsible for the world of camp. It's a world that doesn't make much sense, filled with impressive and impressionable young artists who look to you for guidance while their concerned parents question everything you do. Camp doesn't care that you haven't slept in 32 hours — if you turn your back on those impressive and impressionable young artists, you'll turn back around to find them 40 feet up in a tree. With sleep deprivation, impostor syndrome, and no formal job training (outside of the five years of interning and three degrees in Shakespeare), I often felt as though I was being held hostage in the world of my own creation by the drunken toddlers I had invited to populate it.
Fortunately, as it turns out, that is exactly the kind of world in which I thrive. For all their tree-climbing and H8-hating, every single one of the fifty-nine campers I worked with this summer gave me countless reminders of why it is I love what I do with such a suffering, with such a deadly life, that in existing without it I would find no sense. I would not understand it. The campers come to Staunton to learn what I love to teach. They have no settled judgments, no points to prove, no professional agendas they need to forward. They come to explore things I know in a way I've forgotten, and it's a joy and a privilege to explore with them.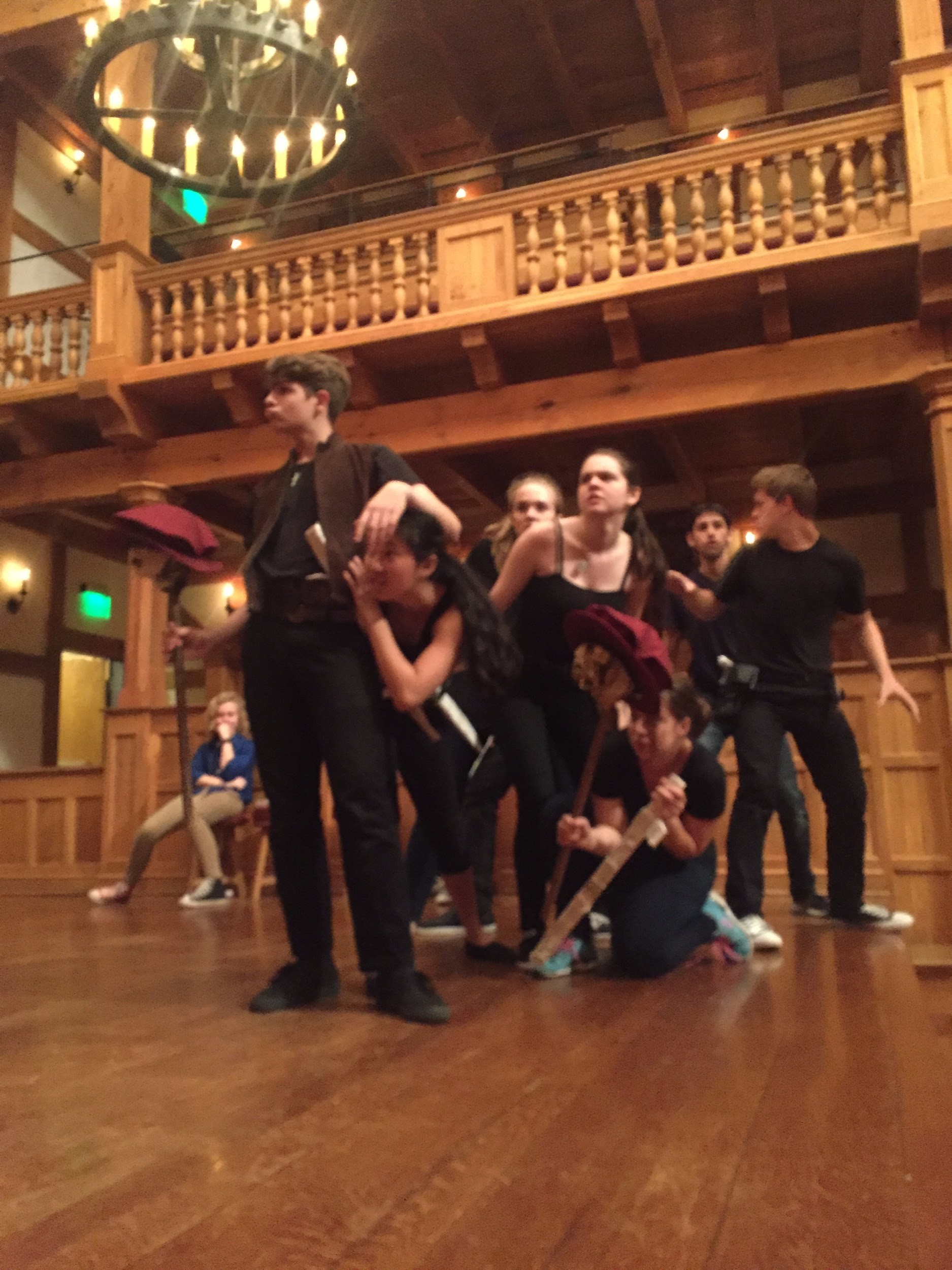 They asked tough questions. They tried new things boldly and with full spirit — or, sometimes, with only a small amount of coaxing. Sometimes they would burst into song as a group, often while following me through the streets of Staunton to wherever the next activity would be taking place, suddenly giving me my own theme song (usually "Bohemian Rhapsody"). They told me how camp changed them for the better, how they'll never forget it, how they can't wait to come back — and they thank me for that, as if their journey of self-discovery is somehow my doing. They are worth every sleepless night spent squinting at convoluted budget spreadsheets and questioning my self worth as a human being due to my inability to correctly calculate credit card fees.
I love what I do. Had frenetically enthusiastic, late-chronotype, generally bewildered Young Lia known that the Real World included jobs like running the ASC Theatre Camp, I think she would have been a lot less trepidatious about stepping into that Real World. I have a lot to learn — and that's okay. I had fifty-nine amazing teachers this summer, and I can't wait to learn whatever the campers at ASCTC 2017 will undoubtedly teach me.