Since 2011, four grade-school teachers have been reading and reviewing children's, juvenile, and young adult fiction and nonfiction, and then collectively writing about it on really fun interactive blog called "The Nerdy Book Club." They say that all it takes to be an "honorary member" of "The Nerdy Book Club" is a love of books. My favorite thing about the site, is their book awards system. Every December, the four teachers, as well as their students and fans of the site, get the chance to nominate their favorite books published that year. They all then discuss the pros and cons, and the four teachers narrow down the nominees. Everyone has the month to read anything they haven't already and, finally, vote. They announce the winners in the last few days of December. Some of the categories that you can nominate are Picture Books, Chapter Books, Graphic Novels, Poetry, Non-Fiction, among others. Finalists have included a vast range of popular titles like John Green's The Fault in Our Stars, Veronica Roth's Divergent trilogy, and Mo Willems very successful Pigeon books. Another great feature of the site are the handy "Top Ten Lists." Each list focuses on a specific topic or type of book or reader, to suggest similar titles they may enjoy. Examples include "Ten Fiercely Fabulous Female Heroines," "Beyond Santa and Frosty: Meaningful Books for the Season," and "Top Ten Books to Give to Adolescent Boys who say they 'Hate Reading.'"
Recently, a friend of our Education Department brought to our attention one of the site's December lists, "Ten Books to Introduce Kids (of Any Age! Adults, too!) to Shakespeare." Before I review this post, I should point out that the top ten lists on the site aren't all recommended by the four teachers who operate the blog. This one was created by an associate editor at Nomad Press named Andi Diehn. That being said, I still decided to read all ten books and look at them as an "introduction" to Shakespeare.
Diehn introduces the post with this lovely little description (her words on the left, my comments on the right);
When I was about 12 years old, I decided to read

A Midsummer Night's Dream

. My mom was impressed. We went to the library and picked it up, along with

Hamlet

, just because, and I carried them home with a reverence…

Okay, so at age 12, Diehn tried to read

A Midsummer Night's Dream

with the hopes of graduating to

Hamlet,

"just because." Great! What a good start! She notes that her mom was "impressed" with her "reveren[t]" book choice and provides a seemingly happy (and routine) memory of them going to the library to pick up these plays. So we get the idea that Diehn is a young reader and her mother supports that hobby by taking her to the library. Since her target audience (i.e. people who read blogs like the Nerdy Book Club) is probably made up of young readers, this is a great hook to support their budding hopes of learning about Shakespeare.

But…what were these words? This wasn't even English, was it?

I didn't understand any of it. Within a page or two of

Midsummer

, I was done, discouraged, disappointed. I didn't even attempt

Hamlet

. Shakespeare, I decided, wasn't for me.

Which she instantly destroys with her own example of what she sees as a failure to read successfully heightened poetry at 12. She expertly defines in her youth "this wasn't even English" and decides that she was "done, discouraged, and disappointed" and after two pages of struggling she concludes that Shakespeare wasn't for her.

It wasn't until about five years later, when a high school English teacher got up in front of the class and performed the "To be or not to be" soliloquy with passion and total commitment that I was willing to give it another shot. And with daily read alouds, a steady stream of footnotes, discussions about plot, symbolism, history, and character, I fell in love.

THANKFULLY she was re-inspired by a passionate high-school teacher that encouraged her to "give it another shot." It took her five years to try "daily read alouds, a steady stream of footnotes, discussion about plot, symbolism, history, and character" which made her fall in love with Shakespeare.

The good news is, we don't actually have to wait that long to enjoy Shakespeare. Actually, we enjoy him a lot more than we realize.

Not only did he add more than 1,700 words to the English language, he also provides the foundations for countless books, movies, songs, TV shows, and blogs.

If you're looking to inspire a love of Shakespeare in a kid of any age, check out these young adult novels. They're the gateway to a lifelong connection with the greatest English writer of all time.

But apparently her experience of having a good teacher who supported her learning a difficult playwright was "waiting too long" and thankfully we don't have to "suffer" like Diehn did. Instead she suggests reading 10 books NOT by Shakespeare, just books about Shakespeare or books that hint at Shakespearean themes, characters, and plots and THAT will make him interesting enough to foster "lifelong connection with the greatest English writer of all time."
Her top ten include;
The Fool's Girl

by Celia Rees

The Loser's Guide to Life and Love

by A.E. Cannon

Ophelia

by Lisa Klein

Street Love

by Walter Dean Myers

Beatrice Bunson's Guide to Romeo and Juliet

by Paula Marantz Cohen

Illyria

by Elizabeth Hand

The Cake House

by Latifah Salom

Something Rotten

by Alan Gratz

Warm Bodies

by Isaac Marion

King of Shadows

by Susan Cooper
Don't get me wrong now; I am all for inspiring the youths (adults, too!) to read Shakespeare. But I have a crazy idea to introduce students to Shakespeare: you could give them (wait for it)…………………… Shakespeare. I was ten years old when I first read A Midsummer Night's Dream, so don't tell me it's impossible. What made the play so accessible at ten for me and what made it so accessible for Diehn in high school are the exact same thing, and I would suggest that age has nothing to do with it. We both had great teachers: someone who was passionate about the story and about making sure their students understood that they could understand Shakespeare. I see this during our workshops and summer camps with students of all ages (5 years old to 95 years old), so don't tell me young children and young adults can't get it because "it isn't even English." What made Diehn follow what was happening in the plays was "daily read alouds, a steady stream of footnotes, discussion about plot, symbolism, history, and character."
I'm not saying reading Shakespeare for the first time is as easy as reading young adult and juvenile historical fiction that introduces themes and plots from the plays, but reading the actual play should never be dismissed as "too difficult" or "discouraging" or impossible. There is a fundamental difference between a smart young reader trying to understand heightened rhetoric and poetry alone (no matter how supportive their parents may be of their hobby) and having a passionate person to lead group discussion about plot, symbolism, history, character. Lastly, I'm not even sure why Diehn suggests this method to introduce Shakespeare since it isn't even what happened to her. She didn't read a historical-youth-fiction piece that made her love it, she had a great teacher that made her love it.
All of that being said; I still decided to read these ten books, because while I do think most people can learn Shakespeare by reading Shakespeare, that isn't to say historical fiction isn't a great genre that fans of the plots of the plays can still enjoy. Rather than using these as introductions, I would suggest pairing them with the plays on which they are based and reading them as supplemental material for fun. I've been reading two at a time, so here are my thoughts on the first two that I tackled.
The Fool's Girl by Celia Rees
Celia Rees has been a youth writer since 1993 and is best known for her book Pirates! Although I have never read her other books, I have heard of Pirates! and remember it being on the suggested reading shelves of my library when I was in middle school. I dove into The Fool's Girl feeling excited for the most part. The book jacket summary gave me just a little bit of skepticism because of its seemingly "historical" take on a possible origin story for the play Twelfth Night. I picked up on some "Shakespearean" names like "Violetta" (similar to Twelfth Night's Viola) and Stephano (a character in The Tempest, not Twelfth Night). The jacket also alluded to other themes and characters from Twelfth Night; namely Malvolio, Feste, and the kingdom in which they all live, Illyria. The historical and magical realism started to blend when the jacket hints to "holy relics," the "Forest of Arden" (from As You Like It, not Twelfth Night),  and William Shakespeare as an actual character in the story. I was mostly intrigued to see how these things would all blend together as Rees's story unfolded.
Essentially, Rees took Malvolio's final line from the play, "I'll be revenged on the whole pack of you" (5.1), and imagined what that revenge might look like. Rees's story details the plight of the children that result from the double marriage that ends the play; Orsin (instead of Shakespeare's Duke "Orsino") marries Viola and they produce Violetta, and Viola's twin brother Sebastian marries Countess Olivia and they produce Stephano. Essentially, Viola goes missing and Duke Orsin begins to study witchcraft (popularly frowned upon in this retelling) and loses his grip on reality. This weakens his hold on his kingdom, and he is usurped by a cruel Sebastian, not the loving, impromptu man of Shakespeare's play, but rather a jealous brother who is disappointed in his title as Count and in his Countess's love for his sister (the two ladies are best of friends and he spends little time with his wife). Violetta and Feste flee to London and meet William Shakespeare, they enlist his help and he writes Twelfth Night based on the stories Violetta shares with him. Stephano also made it safely out of the ruined kingdom of Illyria, the two cousins reunite in London and work together to overthrow the evil Malvolio and evil Sir Andrew.
There are a lot of other small allusions to other plays that will only be meaningful to readers who know what they're looking for. For example; they go to the Forest of Arden (near Stratford instead of in France) and there is a character named Robin Goodfellow who plays tricks on people and scurries around the forest (of Arden).
The book is also extremely heavy-handed in its religious themes and undertones. The whole feud between Malvolio and every other character (it seems) is that they aren't devout enough. It becomes his personal goal to convert everyone or kill them in the process. His main plan of attack is stealing an ancient religious artifact from Illyria which he plans to travel the world with in order to persuade the faithless. As if forced conversion isn't a heavy enough religious plot for a YA novel, Rees makes the Illyrian artifact the gift of myrrh that had been given to Christ at birth. Violetta says that the artifact is the reason for Illyria's existence and Rees lays it on thick;
The golden reliquary , studded with gems and cunningly wrought by the goldsmiths of Byzantium, holds one of the most sacred relics in Christendom: the gift of myrrh offered to the Infant Jesus by the magus Caspar. The precious substance is contained in a small silver-lidded cup of great antiquity, set with precious stones and still containing the myrrh used to anoint the body of Our Lord. (pg 72)
Because Rees is so careless and universally inclusive in her blending of Shakespearean plots and themes, her constantly heavy-handed religious language is an odd opposition.
However, her appreciation of Shakespeare is sweetly encouraging. She describes his character as kind and smarter than everyone else; "He began to have an idea. It came to him complete, all of a piece. That was what made him different from other men" (pg 163).
King of Shadows by Susan Cooper
Susan Cooper is an English and Welsh writer known for her blending of mythological,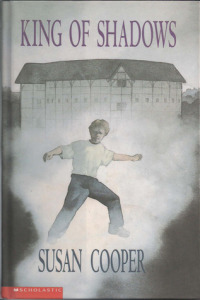 legendary, and folktales with contemporary stories, times, and plots. Although King of Shadows is one of her later books, she uses the same time-traveling devices in this book. In King of Shadows, American Nat Field travels to London in 1997 with a boys' acting troupe and their director, Arby, to perform A Midsummer Night's Dream in repertory with Julius Caesar in the newly constructed recreation of Shakespeare's Globe. On their first day there, Nat gets sick and goes to bed with a high fever. When he wakes up he has been transported to 1599 and will be playing with the Lord Chamberlain's Men, Shakespeare's playing company, in the new Globe. Luckily, he is a "new member" to the company so it doesn't matter that no one recognizes him. The Lord Chamberlain's Men are also doing A Midsummer Night's Dream and Nat is to play the same part he was going to play with Arby's troupe, Puck. The other Nat Field (famous boy actor from the Blackfriar's Boys) is in-turn transported to 1997 and (thankfully) can be treated for the bubonic plague with simple antibiotics. For the most part both performances go well and present-day Nat gets to be in both of them, however, high-jinks ensue. The big reveal comes right at the end when Nat and his friends realize why and how the switch happened. The realize that if past-Nat had performed with the Lord Chamberlain's Men instead of present-Nat, William Shakespeare would have gotten the plague and died in 1599.
"'It was 1599, Nat,' Rachel said. 'Shakespeare was only in his thirties, he wrote most of his greatest plays after that. If he'd acted with Nathan Field instead of with you, he'd have caught the plague and died.. If you hadn't gone back in time, William Shakespeare would have died'" (pg 173).
Their director "Arby" confirms this and reveals his name is actually "R.B," his initials – "Richard Babage." The fun idea is that if you say "Richard Burbage" with a British accent, it kind of sounds like "Babage." Although Cooper never officially confirms that Arby is supposed to be Richard Burbage (who Nat meets when he time travels), she heavily suggests that Arby knows about the time-traveling and may have caused it at the end of the book.
As absurd as this plot is, I actually kind of liked this book. It was cute if nothing else. And what was really fun about it was that a lot of the stage devices and plots that Nat gets to experience in 1599 are historically accurate. There are several ideas that aren't confirmed and there is no historical evidence to support them, but I love that Cooper imagined possible technical ideas. And lastly, there are only two "historical" things that are straight-up wrong. Here are examples of these;
CORRECT!
A huge pet-peeve of our co-founder, Ralph Alan Cohen, is when actors enter and exit through the house. There is no evidence to say that this happened and more probably would not have because of the cost of acting company's costumes. They wouldn't have risked wearing precious and expensive fabrics past groundlings. When Nat tries to use the blocking his present day director gave him in rehearsal in 1559 and exit through the house, William Shakespeare has something to say about it; "'Can I go through the house?' 'Through the house?' Shakespeare said. I pointed into the auditorium. 'No, no,' he said firmly. 'That is for clowns, and not clowns of my liking. Thy place is the stage'" (pg 72).

Cooper accurately describes the use of a plot (in both 1599 and 1997) and a 1599 book-keeper; "As usual, there were constant nervous visits to the 'plot,' the list of entrances and exits that hung near the stage in the tiring-house, and whenever Master Burbage came offstage he made a beeline for the book-keeper, a small bespectacled man… with the play's text on his lap" (pg 88).

Although there is no historical evidence to support the idea that Shakespeare's actors used audience contact, we're like 99% sure they did. At the very least, we find that at our Blackfriars Playhouse today, making eye contact with an audience member is one of the most common and most meaningful original staging conditions in our tool belt. Nat finds this to be true in 1599 as well; "I fixed my eyes on one man near the front… and said everything right to him. It was a perfect eye contact; he was gaping at me, fascinated" (pg 93).

We also know that Shakespeare's company produced many plays in repertory in a very short amount of time, and Nat notices that "…there simply wasn't time to rehearse so much" (pg 178).
NOT CONFIRMED BUT FUN IDEAS!
There isn't a lot of evidence about the technical aspects that went into special effects at early modern playhouses. However, Cooper imagines some creative solutions to create smoke and fog, war sound effects, and bird song in her novel;

"… fireworks were being set off onstage in a sequence of huge bangs, and clouds of smoke from a crude smoke machine being puffed out from a backstage bellows, for the battle effects, and Pistol grabbed my arm" (pg 92).

"…blowing a little pipe into a bowl of water to make the sounds of birdsong; burning rope in a metal pot, to make smoke that could be puffed with a bellows across the stage…" (pg 115)
WRONG!
Cooper's worst offense is careless and irresponsibly switching between "thee" and "you." Just like in French (tu and vous) and Spanish (tu and usted), English used to have formal and informal personal addresses (thee and you).  Although this has fallen out of practice today, it isn't difficult to grasp the concept. And once you understand it, the ShakesFearful idea of "thee" in the plays becomes much less daunting. "Thee" is the informal, and was used to address people you were close to and people of a lower status than you. Alternatively, "you" was formal and was used to show respect and to address nobility or people of a higher status than you. Cooper not only has no regard for people's' statuses in her novel, she frequently will switch between "you" and "thee" in the same speech, implying that there is no difference. Instead, she appears as if she is just trying to sound "Elizabethan" and it is inaccurate and uninformed; "'Thou needst none. I have found a way in. Come.' Roper glanced at me maliciously. 'Unless your Paul's Boy has no stomach for it, of course'" (pg 64).

The final completely made up event is still a fun plot device and they do the same thing in

Shakespeare in Love

, so we can't fault Cooper too much. The Queen comes to the playhouse. Queen Elizabeth would have never come to a public playhouse, let alone in 1599 when she was in her late 60s. However, her attendance at

Dream

is a pretty fun idea and it means that present-Nat gets to meet her. So that's pretty cool.
Overall, these books weren't great. And I would never use them to introduce students to Shakespeare. However, it might be fun to pair them with the plays that they draw the most from and read them as supplemental reading (The Fool's Girl with Twelfth Night and King of Shadows with A Midsummer Night's Dream). Especially King of Shadows. It was pretty cute and had a lot of fun history in it, The Fool's Girl was too fanciful, too heavy-handed, and the attempt at historical "sounding" language was often more difficult to follow than simple text.
Next time! Warm Bodies by Isaac Marion and either Ophelia by Lisa Klein or Street Love by Walter Dean Myers (whichever of the two gets to the library first).