Photo of the Day: Ariel (Lee) draws Ferdinand (Molly) into Prospero's clutches with their music.
Today's Date: July 25, 2022
Show Title: The Tempest
Director: Camp Company!
RDA Stage Manager: Daniel Skinner
RDA Dramaturg: Devlin Ford
Stage Management Intern: Mary Rose Valentine
Dramaturgy Intern: Mia Randers-Pehrson
What we did
After a relaxing weekend full of fun, we got right back into the swing of things this Monday morning. During our productive morning meeting we did our check-in, scheduled the days time (including a rehearsal block, acting coaching, and a stumble through in the Blackfriars), and music committee gave line assignments for the shows pre-show music. After a break we started rehearsing! The Neapolitans took the main blackbox in Deming in order to catch up friends who had been out, while the clowns worked outside and Prospero and company worked upstairs. We took another break before all coming back together to work the final scene.
In the evening we came back together in the Playhouse and STUMBLED THROUGH THE SHOW! We had a company discussion about how it went, did some trap training (how to get to hell), and then went to bed!
Prospero 1 (Lucy) and Prospero A (Maddie) survey Ariel (Lee) who is flanked by magical strange shapes (Lilah and Gabe).
Antonio (Alex) and Sebastian (Ella) plot to murder Alonso. On the edge of the stage, Adrian Francisco (Pax) discusses the island with Alonso (Analise) and Gonzalo (Lilly).
Ariel (Lee) messes with Trinculo (Fenrir), Stephano (Poma), and Caliban (Isabella).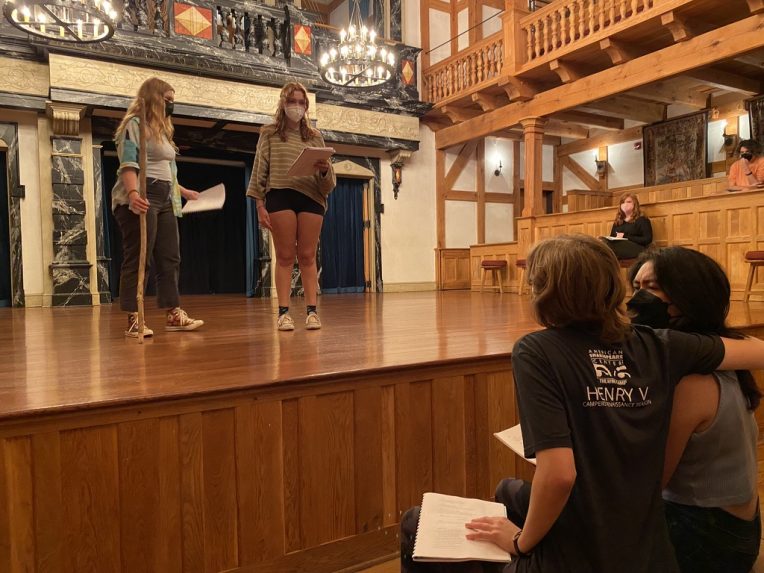 The Prospero's (Lucy and Maddie) warn Ferdinand (Molly) not to get too friendly with Miranda (Sakura) who sit together for the Masque.
Lia takes the campers to hell.
Quick and Quotable
From the play

: 

"A Pox o'your bottle, and the devil take your fingers." – Trinculo (Fenrir)

"These are not natural events, they strengthen / From strange, to stranger." – Alonso (Analise)

*Ferdinand (Molly) and Alonso (Analise) embrace*
From the company: 

"It's symbolism, okay?" – Lucy

"I'm very proud of you all — you don't need my pride, but it's there." – Lee
Production Insights
We're back in the Playhouse! I'm so impressed with the company's ability to make choices and roll with what comes their way (especially considering this is the first day of rehearsal where we've had the entire company in one place!). They definitely have a ways to go before performance day, but their thoughtfulness in considering the work they have done and the work which needs to be done tells me that their final product is going to be joyful and something in which they can take SO MUCH pride.