Sarah Ruhl's Eurydice is a wildly imaginative, bittersweet retelling of the classic myth of Orpheus and Eurydice. While the legend may be ancient, it has never really stopped pulling on the heartstrings of humanity since it was first told. The story's lasting emotional impact seems to have always had a consistent foothold in art and popular culture, but its popularity has seen a particular resurgence in recent years. This is probably due in large part to the opening of the musical Hadestown on Broadway in 2019, which pairs the story of these doomed lovers with an exploration of Hades and Persephone's love story. Hadestown first started being workshopped in 2006, only three years after Ruhl's play premiered at the Madison Repertory Theatre, so these two theatrical takes on the Greek myth were actually developed around the same time.
If you haven't taken the time to listen to the soundtrack for Hadestown, we highly recommend it! While Ruhl's play focuses on different aspects of the story, we still think they pair well together, either before you come see our Spring Season production or after.
Let's take a look at some other examples of Eurydice and Orpheus in pop culture over the years!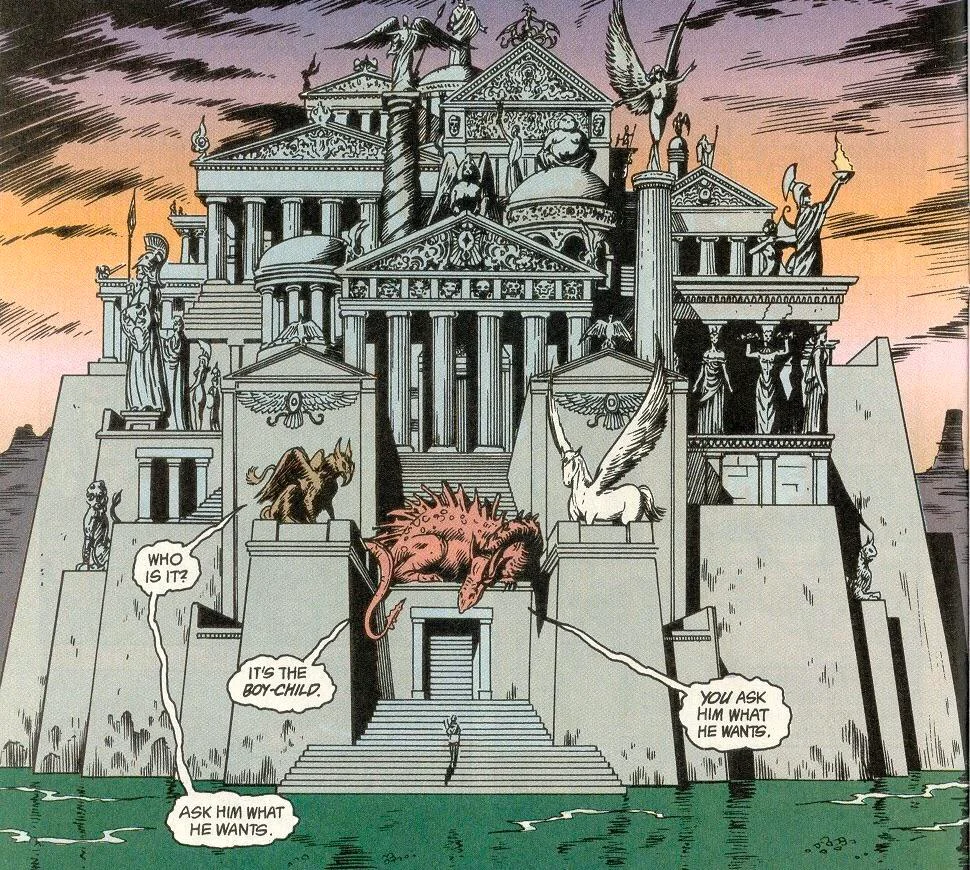 Do we have any Neil Gaiman fans in the house? The Song of Orpheus was part of volume 6 of his Sandman graphic novel series. Originally released in 1991, this special issue features Gaiman's take on the same Greek myth.
Portrait of a Lady on Fire is a 2019 French film by Céline Sciamma that features the legend of Orpheus and Eurydice. During the events of the movie, Marianne and Héloïse read and discuss the myth and it becomes a thematic motif in their relationship. If you haven't seen this movie, we highly recommend it! Another interesting movie based on Eurydice's story is The Girl from the Song (2017), which replaces the Underworld with Burning Man.
For video game fans, maybe you've heard of Hades, an indie Rogue-like game developed by Supergiant Games? In the game, the player (Zagreus) meets Eurydice and Orpheus and can help reunite them (particularly satisfying if you aren't a fan of tragic endings!) Another game to check out is Don't Look Back, an Atari VCS-styled game by Terry Cavanagh.
There are also some excellent YA novels with contemporary takes on Eurydice and Orpheus! Two great options for those who love the YA genre (never just limited to young adults themselves) are Never Look Back by Lilliam Rivera and Orpheus Girl by Brynne Rebele-Henry.
There are also many other wonderful theatrical adaptations of Orpheus and Eurydice's myth! These include the 1941 play Eurydice by Jean Anouilh, the 2002 play Metamorphoses by Mary Zimmerman, the 2005 song cycle Orpheus and Eurydice by Ricky Ian Gordon, the 1957 play Orpheus Descending by Tennessee Williams, and the 2007 rock opera Orpheus X by Rinde Eckert. You can even check out a more recent adaptation from Sarah Ruhl herself! She collaborated with Matthew Aucoin to create the opera Eurydice in 2020, using her 2003 play as the foundation. It's also interesting to know that Jacopo Peri's Euridice from the year 1600 is the world's oldest surviving opera! 420 years have passed between the creation of these two operas and yet the story remains just as potent and compelling as ever.
Last but not least, you had to know that a story about the musically gifted Orpheus has to have inspired some great music over the years! Here is a playlist of some of our favorite songs inspired by the Greek myth:
"Eurydice" – Eugénie (2020)
"Orpheus" – Sara Bareilles (2019)
"Talk" – Hozier (2019)
"Orpheus" – Shawn James (2019)
"Orpheus in the Underworld" – Rick Springfield (2018)
"Orpheus is Playing the Troubadour" – Charlie Fink (2017)
"Eurydice in the Light" – Helena Ruth (2016)
All songs from Orphée, a 2016 album of songs by Jóhann Jóhannsson, the award-winning composer of soundtracks for movies like The Theory of Everything, Sicario, and Arrival
"Don't Look Back Orpheus" – The Ghost of a Saber Tooth Tiger (2014)
"Awful Sound (Oh Eurydice)", "It's Never Over (Hey Orpheus)", and "Afterlife" – Arcade Fire (2013)
Fun fact: The cover of this Arcade Fire album, Reflektor, features a picture of Auguste Rodin's sculpture of Orpheus and Eurydice!
"Don't Look Back" – She & Him (2008)
"From the Underworld" – The Herd (1967)
The fateful tale of Eurydice and Orpheus has been capturing minds and hearts for hundreds of years. ASC's 2023 production of Sarah Ruhl's Eurydice is no different. With an all-star cast, featuring Kayla Carter in the title role and Topher Embrey as Orpheus—and directed by the remarkable Nana Dakin—you don't want to miss your chance to see this beloved piece of theatre uniquely staged for the Blackfriars Playhouse before it closes on May 13. Get your tickets today!
---
2023 is ASC's 35th Anniversary and we've got an incredible artistic year planned! Now playing at the Blackfriars Playhouse: Sarah Ruhl's Eurydice (through May 13) and Shakespeare's As You Like It (through May 14). If you're interested in learning more about what we do, take a virtual Playhouse Tour or join us for a Friday Night Lights On pre-show lecture each week. Visit our website to purchase tickets and see a full calendar of events.
---
Cover image: Topher Embrey and Kayla Carter in EURYDICE BY SARAH RUHL. photo by Amy Wolf.
IMAGE 1: from the Broadway production of Hadestown, courtesy of Matthew Murphy.
IMAGE 2: A panel from Neil Gaiman's 1991 Sandman Special: The Song of Orpheus.
IMAGE 3: PORTRAIT OF A LADY ON FIRE, 2019 film by Céline Sciamma.
IMAGE 4: IMAGE FROM Supergiant Games.
IMAGE 5: Cover art from Never Look Back by Lilliam Rivera and Orpheus Girl by Brynne Rebele-Henry.
IMAGE 6: Benjamin T. Ismail and Suzy Weller in the Guthrie's METAMORPHOSES. Photo by Dan Norman.
IMAGE 7: Stacey Tappan as Little Stone, Erin Morley as Eurydice, Ronnita Miller as Big Stone, and Chad Shelton as Loud Stone in Matthew Aucoin's Eurydice.
IMAGE 8: Cover art for Arcade Fire's 2013 album REFLEKTOR.
Image 9: Orpheus Mourning the Death of Eurydice, 1814 painting by Ary Scheffer.
IMAGE 10: Orpheus glances back at Eurydice, 1806 painting by Christian Gottlieb Kratzenstein-Stub.
IMAGE 11: Kenzie Ross, Summer England, Constance Swain, and Kayla Carter in EURYDICE by Sarah Ruhl. Photo by Amy Wolf.