This year, we added an "Extended Experience Week" (or XXW) in between sessions for particularly industrious campers to add to their ASCTC adventure. XXW campers either stay behind after Session 1 or arrive a week early for Session 2 (or just stay put, if said camper is participating in both of the summer's sessions) for an extra week of Shakespearean shenanigans. During the XXW, campers serve as interns in various departments within the ASC (from marketing to costuming, they'll see it all) while also helping camp staff set up for Session 2.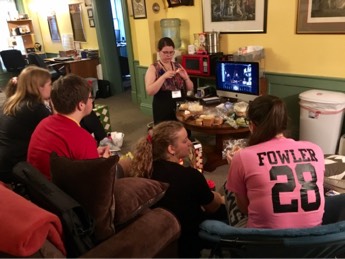 The XXW is all about past, present, and future. While extending their experience now, XXW campers get a sneak peek of the future in the form of the ASC shows to come by observing additional rehearsals for next year's touring production of Macbeth. Likewise, they take a trip down memory lane and visit the past via Archive Movie Nights.
Archive Move Night is exactly what it sounds like: a chance for campers to take advantage of the ASC video archives and view any production they desire from the ASC's 25+ year history. Last night, they voted to watch the recent production (from the 2015 Summer/Fall season) of A Midsummer Night's Dream. Tonight's choice is the 2012 Actor's Renaissance Season production of Richard III, which the campers chose entirely by themselves and with absolutely no input from me, Lia, who has no feelings whatsoever regarding that particular production.