On July 31, ASC's Othello premiered at the Blackfriars Playhouse to critical acclaim. DC Metro Theater Arts called the production thrilling, and the Wall Street Journal dubbed it "a work of fitting gravity." Two weeks ago, the New York Times sat down with Jessika D. Williams (Othello) to discuss her passion for Shakespeare and the risk of performing during a pandemic. Most importantly, you — our audience members — have responded positively to the production on social media, wowing us with your unwavering support and kindness amidst these unprecedented artistic circumstances. 
So, what makes ASC's Othello so special? Simply put: its touching portrayal of humanity. In her interview with the Times, Williams says that Shakespeare "gets to the essence of the human condition," and this essence is further magnified through the cast's character choices. To understand these choices, we caught up with three ASC actors — Mia Wurgaft, Brandon Carter, and Zoe Speas — and asked them what they have learned from playing Desdemona, Cassio, and Roderigo. Their answers reveal their inspirational commitment to capturing the human spirit, and illuminate why the tragedy of Othello is more relevant today than ever. You might think you know the story of Othello, but keep reading and your perception of the play is sure to change.  
---
Mia Wurgaft (Desdemona)
5 Words to Describe Your Character:
Passionate. Noble. Naive. Trusting. Romantic 
What has it been like to perform for a live audience again? 
It has been wonderful. When the house is full, i.e. in Covid-era numbers, and they are leaning forward, I always feel a rush of joy.
Desdemona is a strong-willed character. What can modern audiences learn from her? 
I believe her upbringing has a lot to do with why she is so well spoken and strong willed. She is the daughter of a senator — she has the power, education, and class privilege that comes with being a politician's daughter. A Kennedy if you will. This experience is one most women do not have. What I have personally taken away from her is how gratifying it is to be in tune with your wants and then to speak up for them.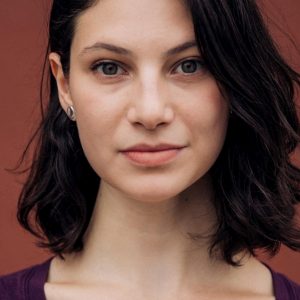 How did you and Jessika approach Othello and Desdemona's relationship? Did you do anything special to help build the love between your characters?
Honestly, one night of discussing the play over wine, and just getting to know each other as friends outside of work is all that was needed in terms of special relationship building for me! The chemistry and communication was very easy to build over the course of the rehearsal process.
What surprises are in store for audiences when they come to see the show? 
If you don't know the ending, that's one hell of a surprise!
---
Brandon Carter (Cassio)
5 Words to Describe Your Character:
Loyal. Trusting. Intelligent. Charming. Hot-blooded.
As part of our ongoing series "Dr. Ralph Presents: Then Must You Speak," Dr. Justin P. Shaw illuminated the ways Cassio might be complicit in Othello's downfall. What do you think; does Cassio fail Othello? 
Absolutely not. Although Cassio has helped Othello court Desdemona, he starts the play "out of the loop" about the marriage. Then later, he is demoted and constantly trying to get his job back. I think his focus is just that: trying to regain his reputation. He doesn't know what's going on. 
I think the only place where Cassio would be complicit would be if he knew Othello was hiding out while Cassio and Iago were having locker room talk about Bianca [Othello believes the two are discussing Desdemona]. However, I believe if he knew, he would defend his General without question. At least my Cassio would. 
What does the relationship between Cassio and Bianca contribute to the play?
Their relationship serves as a foil to Othello and Desdemona's relationship, as well as Iago and Emilia's. If anything, it shows a healthier side of jealousy and sexuality, if there is such a thing? Of being young, jealous, and in the moment, in the blood. Compared to Othello and Desdemona's idealism, and Iago and Emilia's unspoken trauma, I think Bianca and Cassio actually have the foundation for a truly successful relationship.
Cassio has traditionally been depicted as white. How does it feel, as a black actor, to be playing this role? 
It's about time! I'm always grateful to be able to take a stab at any traditionally white role. That's how we break the legacy. That's how we keep Shakespeare and other classics relevant, right? As the theatre and the world continue to change, different voices need to be heard. Period.
With a black man as Cassio, the racist language Brabantio and the Duke throw around Othello — "Sooty Bosom", "Bond-Slave", "Far more fair than Black" — are experienced by Cassio as well.  If not quelled by Othello, his hero, I believe Cassio would take action. I also think he has a dual loyalty: that of the external dutiful kind and the unspoken loyalty of being another black man in an all white space. 
What do you want audiences to know before they come to see the show?

Wear a mask, please.
---
Zoe Speas (Roderigo)
What five words would you use to describe your character in Othello?
Five words to describe Roderigo: Feckless. Gullible. Naive. Petulant. Foppish.
Five words Roderigo would use to describe Roderigo: Hot. Rich. Suave. Clever. Brave.   
It has been three weeks since Othello opened at the Blackfriars Playhouse. What has been your favorite moment since live performances began? 
The fact that we are able to perform live at all in the current state of the world fills me with profound gratitude for and pride in this theatre company. That's the baseline. I will add, too, that I honestly believe this is one of the most stunning and powerful Shakespeare productions that I've ever played in, and for our group to have accomplished that in spite of everything just bowls me over, truly.  
If I had to pick an actual moment, I'd say the moment I walked out onto the Blackfriars stage with Jessika Williams and the band to perform Nina Simone's "Sinnerman" for our first indoor audience since March.
Roderigo is not exactly a likeable character. Yet, your portrayal of Roderigo is often quite comedic. In your opinion, should audiences see him as a victim or a culprit? 
Shakespeare's source material for Othello was a short story called "Un Capitano Moro," written by the Italian writer Cinthio as part of his anthology Gli Hecatommithi published in 1565. While Shakespeare retained many of the conflicts and characters from Cinthio's text, the quality of Othello is entirely unique to Shakespeare. The role of Roderigo is entirely Shakespeare's invention — there is no such character in Cinthio's short story. 
Why does Shakespeare add Roderigo to the story? He's not a "good guy." In fact, quite the opposite: Roderigo willingly serves as the means of Iago's destructive and violent schemes. And yet — when he meets his unhappy end, does the audience celebrate? A "bad guy" getting his just deserts? I don't think so. In fact, I believe when Iago kills Roderigo, he also kills something in the audience that renders them unable to "participate" in his wicked deeds any further. It is perhaps the very moment where the audience becomes aware that they've been serving as accomplices to the villain of the play for almost five acts. It's disturbing — both Roderigo's death and this realization. Roderigo's murder shines the spotlight on the audience and says, "You're complicit, too. You're guilty of these crimes." 
But I don't believe this effect would be possible had Shakespeare not manipulated the audience into "rooting for" Roderigo throughout the play leading up to 5.2. Usually, the fools in Shakespeare's plays — especially the tragedies— are characters we can support. They're not heroes, exactly, but they're certainly not villains. Roderigo is a fool and a villain. In my opinion, it is this hybrid quality that ensnares the audience from the beginning; it is why Roderigo is tailor-made for the unique form of tragedy that Shakespeare created when he wrote Othello.
---
Like this post? Let us know by sharing this post on social media! AND — be sure to check our website for ticketing information. Plus, we now have Shakespeare Mustache Face Masks for sale — pick one up in our online gift shop!
---
BY KATHRYN BAKER; MARKETING INTERN