I spent the past week in Shaker Heights, OH, working with Kelley McKinnon and Chad Bradford (both formerly of the ASC touring troupe). This expedition was the first ASC educational residency, where we send a team out on location to wor
k with students on text exploration, Shakespeare's staging conditions, rehearsal observation and coaching, and a plethora of other ASC mission-driven programming that we can develop for the specific school or pull from our existing publications. It's sort of the inverse of our Little Academes, where college professors bring their classes to us in Staunton for a custom-designed week of lectures, workshops, and play-going. The residency gives us the extra benefit of being able to reach many more students from the same school than could feasibly travel to Staunton for an extended stay. Molly Cornwell, the theater teacher at Hathaway Brown School and director of their plays, brought us in to work with everyone from 7th-graders up to college-bound seniors.
In Hathaway Brown's fabulous black box theatre, we met with drama and English classes to introduce ASC rehearsal practices and methods of learning through performance. The acting classes did some in-depth monologue work with Kelley and Chad, bringing the nuances of Shakespeare's language to the forefront. Several of those students are also in Cornwell's production of Macbeth, currently in rehearsals, and so they worked on monologues or important staging moments from the play. Improv classes played word games and worked with cue scripts, while English classes examined issues of masculinity, asides and audience contact, and the challenges and opportunities of playing darkness. The 7th grade intro to drama class explored the many vocal and physical choices an actor can make — and also learned how to die dramatically as Juliet. Watching a 12-year-old perform Juliet's death so passionately that she actually creeps herself out is one of the more amusing things I've gotten to do lately.
We also got to work with the full cast of Macbeth, with Kelley and Chad serving as rehearsal coaches each afternoon. They encouraged the students to make big choices. Everything, they pointed out, is a choice — or at least, it should be. If you're not making a choice, you're throwing a line away. They also helped the actors interrogate Shakespeare's language to find all of the delivery clues he provides. Hathaway Brown is educating som
e incredibly talented young women — during the week, I saw wonderful transformations as the students really dug in to the text. The witches discovered disparate identities that still worked in unison, Lady Macbeth built ways to present herself both as a powerful instigator and as a fearful madwoman, Macbeth explained his soul-shaking quandaries to the audience, and the entire cast navigated the challenges of group scenes like the revelation of Duncan's death or the banquet featuring Banquo's ghost. Other activities during the week included practicing safe stage combat, looking for embedded stage directions, and learning how to share focus on the stage.
I was so impressed by the young ladies at Hathaway Brown. Not only were they bright, active, and engaged, willing to experiment with Shakespeare's text and to try new things, but they also all seemed so kind and generous, both with us and with each other. I loved that, when I asked the 7th-graders to explore different ways of delivering the first line of Macbeth — "When shall we three meet again?" — I got 18 completely different responses from each of the 18 girls, each one fully committed to her choice and excited to show it off to the rest of the class. That sort of effervescent enthusiasm was prevalent in the whole school. Everyone there really seemed to be enjoying the learning process — which is, of course, exactly what we hope for. Molly Cornwell has done a great job building her drama program, and I'm so glad the English teachers are working with her to bring new ways of looking at Shakespeare to their students.
We finished off the week with an assembly, opening with some snippets from Macbeth that the cast had worked on during the week. The Porter took on the challenge of presenting a monologue she'd only learned two days earlier, and she did an incredible job, strolling nonchalantly through the audience, mocking her classmates, and setting the tone for the rest of the hour. Then Macbeth and Lady Macbeth presented Act One, scene seven, the famous "If it were done, when 'tis done" speech and following conversation. They demonstrated wonderful focus and intensity, and I can only imagine that their classmates will be excited to see the final, finished product. Kelley and Chad performed the Macbeth-Young Siward fight, and then we demonstrated some of the workshops, in brief, that we'd done during the week with classes. Kelley had two volunteers find the delivery clues in a scene between Katharine and Petruchio, using the alliteration as a physical direction, and used cue scripts to find the moments where Romeo asks Juliet for a kiss. Chad led a group of students in a Shakespearean insult contest, and then Kelley unleashed total delightful mayhem by demanding that the faculty come up to give it a try. We ended the week on just the right note, leaving the students with the idea that Shakespeare is exciting, energetic, and an overall good time.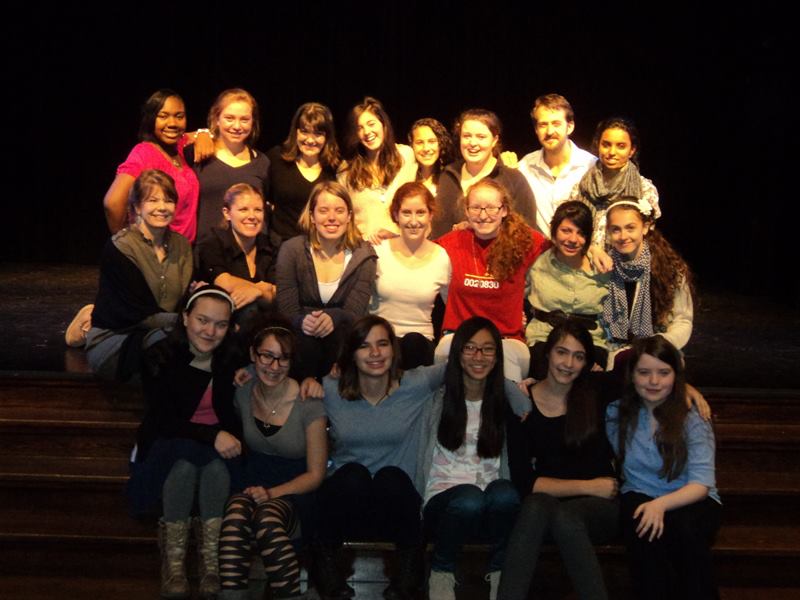 After one last group photo with the cast of Macbeth, it was, sadly, time to head home. Photos from the week are up on the ASC Facebook page, and I hope I'll have video to share with you all soon. Kelley, Chad, and I had an absolutely wonderful time, and I can't wait till the next educational residency.