Since the American Shakespeare Center made the difficult decision to halt operations until at least June, my life — like the life of every educator in the world — has become Virtual Insanity. It's one thing to film all of the shows and put them up on BlkFrsTV, but how are we supposed to "film and deliver" our Education materials to the groups that can no longer come here to experience them? It's a question much on the minds of educators everywhere, as schools stay closed and classes move online wherever possible, and one that I have had the privilege of diving into headfirst. I'm here with a field report from the virtual trenches, to tell you how it's been going out here in the world of distance education. So here you have it: the good, the bad, and the ugly of teaching theatre at a responsible social distance.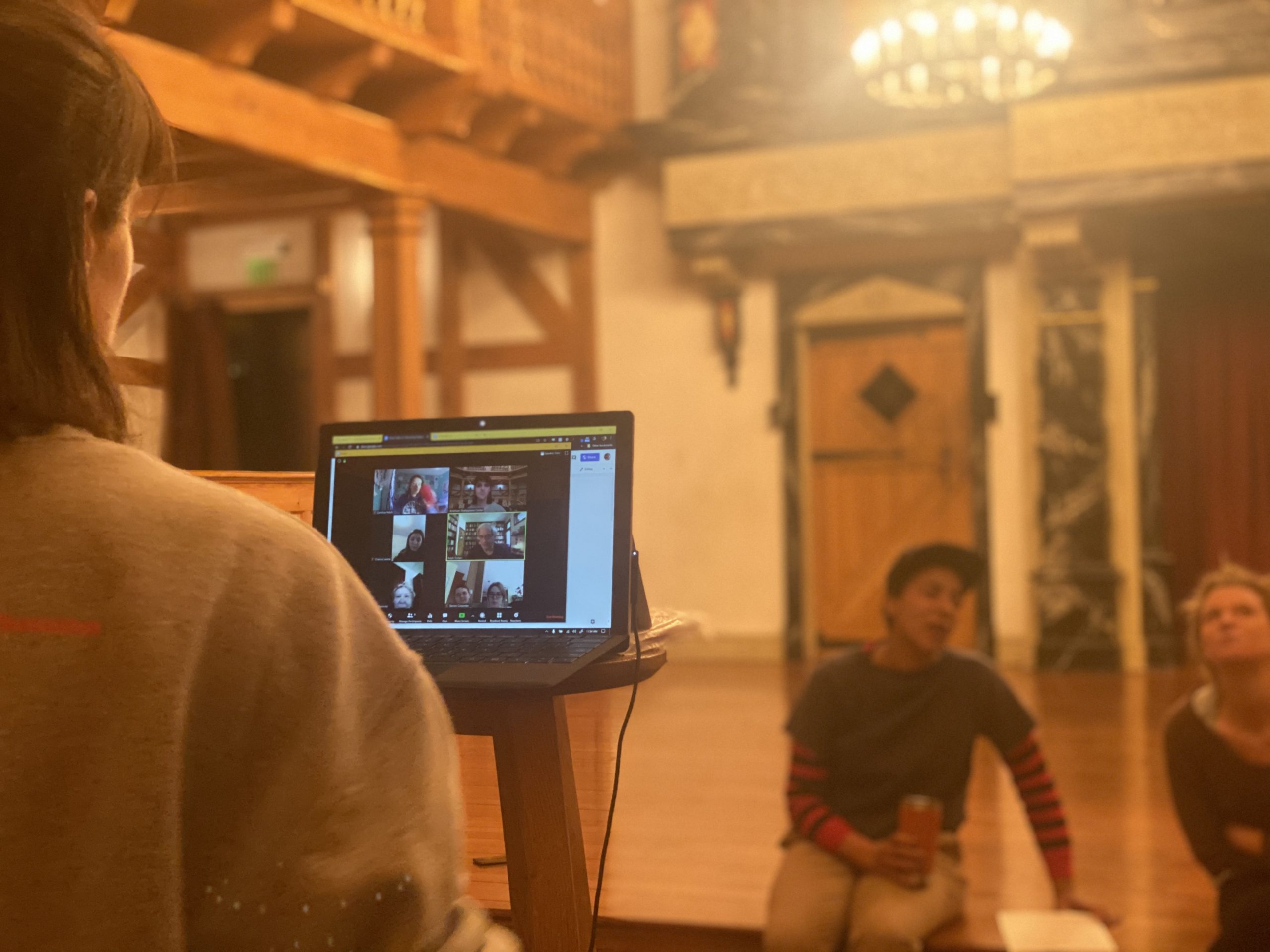 The good: IT'S POSSIBLE
or, how I learned to stop worrying and love the Zoom
This month, the ASC debuted the Zoom-based Virtual SHXcademy. The idea was to recreate the regular SHXcademy — ASC Education's general offering for groups who come to the Blackfriars Playhouse to see shows and do workshops, usually over several days — online, and make it available to everyone to join at a single price. The $50 Virtual SHXcademy package includes a streaming ticket to one of the shows on BlkFrsTV and access to a suite of four workshops, conducted live from the Blackfriars stage by yours truly over the course of three days. This blend of synchronous and asynchronous scheduling highlights the ASC's trademark focus on both scholarship (in the workshops) and performance (on BlkFrsTV), while also requiring participants to explore Shakespeare both independently (by watching BlkFrsTV on their own) and together (by going through the workshops together).
Asynchronicity is convenient, but synchronicity is crucial
Over the first two days of the Virtual SHXcademy, participants Zoom in together for workshops on Shakespeare's Rhetoric, Embedded Stage Directions, and opportunities for Direct Address. Unlike BlkFrsTV, these workshops are pre-scheduled without being pre-recorded: while you can watch the show on BlkFrsTV on your own time, you have to join us for the workshops at the designated time so we can work through them together. Participants can ask me (and each other) questions about the material in real time, so the workshops move at the pace set by the group rather than one predetermined by me. Zoom lets me maintain some of the feeling of the old analog classroom, too, by letting me see and hear every student (provided they have a webcam and microphone) or at least their emoji-based reactions like applause, a raised hand, a thumbs up, etc. so I can use that feedback to modify my delivery. By the third day, participants are used to working with Zoom and comfortable working together, making them ready to put their new knowledge into practice in our fourth and final workshop: Directing Shakespeare. Nowhere is the importance and excitement of synchronicity more obviously evident than in the reactions of students seeing the choices they make on the page translate immediately to the stage by ASC actors bringing them to life right before their (digital) eyes.
The bad: IT'S NOT THE SAME
Please hold for tech
I am hardly a technological genius. My limited skill with computers comes almost entirely from my status as a millenial rather than any formal training or innate aptitude. I am qualified to say, "Zoom is pretty cool" and not much else. I am blown away by what we are able to accomplish these days because of the magic of tech,  and I am beyond grateful that we have that magic. But we shouldn't confuse "possible" with "perfect" — and teaching theatre at a distance is far from perfect.
I thought my primary struggle teaching with Zoom would be the lack of immediate feedback from students who are not physically present — but as I said above, Zoom does a pretty good job of mitigating the struggles of that reality. While I will forever lament the inability for two people to make eye contact over Zoom (it's impossible) and everything that limitation represents (how hard or impossible physical work and ensemble work have both become, for one), I have to admit I've been impressed so far. The problem that remains, however, is the general anxiety of using tech for anything — made worse by new circumstances that require we use tech for everything — because tech can (and does, and will) go wrong.
what can go wrong will go wrong
The biggest bad of teaching through Zoom is the constant fear that the platform will fail. What if my computer freezes? What if the internet gets wonky? What if the power goes out? And even if none of those big things goes wrong, a million little things will go wrong. It's amazing that I can ask a question to a group of virtual participants and call on somebody who raises their hand (either because I can see them do so through their webcam or because they use Zoom's "raise hand" feature) and then hear their spoken reply — and yet, every time I do that, I add extra time to our discussion while participants struggle to find the "raise hand" function or to find the "unmute audio" button. It's amazing that share my screen and play video clips in order to show examples of different performance choices actors can make using the rhetorical figure or embedded stage direction under discussion– and yet, these short videos don't always play on everybody's screen clearly or at all, and since I don't see what the student sees, I may never know. It's amazing that I can put my screen on gallery view and point it towards the actors so they can see everybody's faces while they enact your redirects — and yet, if I unmute everybody so the actors can hear their reactions, too, the audio turns into "demon popcorn" (to quote one Virtual SHXcademy participant) for everybody, and nobody can hear anything at all.
While Zoom does a good job of facsimilating the experience of being in a room together for a group of people who absolutely cannot be in a room together, we should not make the mistake of taking that facsimile for the thing itself. It is not the thing itself, and if we ever forget that, something will glitch to remind us.
The ugly: THE ZOOM PRECEDENT
Right now, I don't have much ugly to report about teaching theatre at a distance through Zoom: it's a good platform, introducing a passable workaround to an impossible problem. My biggest fear is that the potential of what Zoom can do will irrevocably change what we all will do once we no longer need Zoom.
Theatre's livelihood comes from its liveness. Social distancing has dampened that inherent liveness, and workarounds like BlkFrsTV and the Virtual SHXcademy can no longer require the previously non-negotiable prerequesite of a physically present audience. In some ways, this is really good: people who could (or would) never make it to Staunton, Virginia to experience the wonder of our shows our the value of our education programming can now do so without ever leaving their living rooms. Our reach has therefore extended further than we thought possible, and we are reaching more people than we ever planned. Already, the ASC is receiving requests to continue offering online opportunities like BlkFrsTV and the Virtual SHXcademy when social distancing guidelines lift, in order to maintain this new level of access to audiences previously out of reach. 
Just because we can doesn't mean we should
As we head into a brave new world that has such options in't, I encourage us to remember the importance of theatre's liveness. Just because we can film our shows for BlkFrsTV doesn't mean you should watch them there instead of making the trip to Staunton to see them live in the Blackfriars Playhouse. But if we decide collectively that the latter is the same as the former (and if the Actors' Equity Association agrees with that decision), why would anybody bother to make the trip? Will the Blackfriars Playhouse be reduced to yet another soundstage? Will the audience-including effects of the Playhouse's thrust staging and universal lighting be swept under the digital rug of recording for the wider audience beyond our walls? I hope not. What a loss that would be.
The Virtual SHXcademy is an amazing digital substitute for an in-person Education experience, but it's still a substitute. So far, I've had great success leading classes online — but my real job is running the ASC Theatre Camp, and the magic of camp doesn't happen in class. It happens in the dorms, and the dining hall, and the rehearsal room, and all of the side conversations we can't have right now. That's where the magic comes from, and until we're able to get back into a room together to create that magic, everything else — like a disembodied face floating on the side of your Zoom screen — will only be a pale imitation.