Storms abound, in life and in art. From the wreckage, both physical and emotional, we find new meanings. ASC's Fall Season features an undercurrent across all our plays of travel and transformation, loss and recovery, and navigating otherness. Our Programming team, in collaboration with the acting company, put together an incredible dramaturgical display in the Blackfriars Playhouse's upper lobby that we like to call "context boards," because they provide important context for our season of plays, why we chose them, and how them connect to each other. This display will be featured in the lobby from October 21-November 20, so go check it out when you're here to see a show! However, if you've already made your trip or don't have extra time to spend with the display, we wanted to share the best parts of the information with you here as well.
Read on to learn about the major themes of the Fall Season and how each show connects to these themes and each other.
Abuse of Power Dynamics
There is no Shakespeare play without structures of power within it. In The Tempest, Prospero's relationship with Ariel and Caliban is based in a belief of supremacy over them. He demands their obedience by saying that he has saved them, given them language, or otherwise cared for them. This seems to be a continuation of power structures in Naples and Milan. Antonio and Alonso believed Prospero was incapable of ruling, and so took Milan. Throughout Pericles, we see a variety of authorities, and the most deplorable of them are rulers who exploit their people. We are also shown how power can fail people, such as Cleon and Dionyza who struggle to care for their people, and attempt to have Marina killed because she might threaten their daughter's right to rule.
Some of the best uses of power in these plays are the ways that power is subverted. While certain people believe that they have a right to rule, they can be humbled to learn more about themselves and their situations. This allows for people under their authority to take control of the situation and remind them that authority is also a position of experience. For instance, the mariners at the open of The Tempest use their expertise to assert control in the situation. Similarly, when Pericles is found by the fishermen in Pentapolis, they hold authority as the people that not only save him but can assure his situation turns out well. These subversions also exist for Marina, who uses her wits to take control of an otherwise terrifying situation and navigate her captivity.
Agency and Liberation
Throughout these plays, liberation, agency, and the ability to take action defines many of the power struggles. Deliberate casting and text cut choices were made to emphasize victimhood, exploitation, and the struggle for freedom. Placing black actors, especially those of different skin tone, in roles that explicitly define their relationship to other actors as one of enslavement allows us to draw attention to this stratification and exploitation within the play. It brings forth a more defined modern conversation of victimhood and the nuances of efforts towards black liberation. With Ariel and Caliban specifically, their enslavement is a feature of their characters and the relationship they have with Prospero. Casting black actors in these roles accentuates the struggles of black liberation that continues to this day.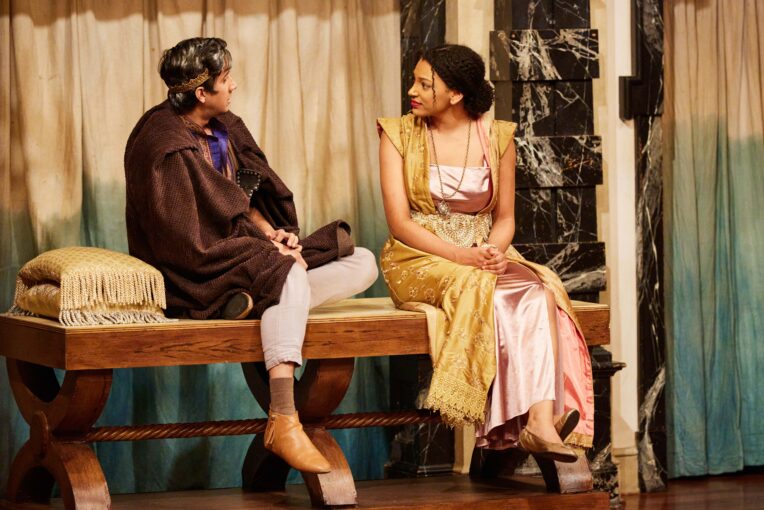 The struggle for agency is also highlighted by characters such as Marina and her navigation of her situation. Her trafficking and her deliberate choice to function outside the confines originally intended for her would seem to condemn sex work as a degradation and dehumanization. However, the focus in our production highlights that her choices are a reflection of self-affirmation and agency within a limited and oppressive structure.
Racism and Colonialism
As we continue to grow as a society and challenge the frameworks that have been established on the foundation of oppression, we must continually reevaluate Shakespeare's text and unpack the many stories embedded within its poetry. Even plays that are not explicitly concerned with race or colonialism are still informed by it because of the legacy of that trauma.
This season we are face-to-face with the reality and danger of racism and colonialism through the characters of Ariel and Caliban in both The Tempest and Une Tempête. When Prospero arrives on the island, he immediately presupposes that his language and culture can be ascribed to the Island while completely disregarding, degrading, and demolishing the culture which preceded his arrival. There is a contrast between the two play endings with one showing Prospero leaving the Island (The Tempest), and the other showing Prospero remaining on the Island (Une Tempête). Although the conclusions differ, the question of what happens after the ravishing of a culture and community remains: is there any escape from oppression and trauma for the ongoing or "concluded" domination of people and their culture?
Reunion and Reconciliation
These plays are full of self-discovery, healing, learning from the world around us, and reaching out the hand of forgiveness and accountability to attempt reconciliation.
Pericles learns of the world around him through continuous set-backs and a process of learning, growing, and experiencing that takes us through his life. He is in continuous motion, a process that is informed by every prior experience and what he has learned previously. Loss isn't always a bad thing, but it always takes reflection and reconciling with the past.
Prospero, and the other Lords stranded on the island, must make a decision of reconciliation. This reconciliation isn't only with each other, but also with themselves. The pain of the past must be accounted for to grow from it. It is important to remember that forgiveness is earned, and not always given. Prospero ends the play asking for amends from the audience. However, he does not ask the same from those that he truly hurt: Ariel and Caliban.
Because of the legacy of hurt and harm, a gesture of reconciliation cannot be just one action. Instead, it is a continual process that addresses the loss in others.
CONNECTING PLAYS
The Tempest is a story of legacies, both inherited and constructed. This play investigates how power is used to create the Other. The shipwreck that exists in The Tempest may be an illusion made by magic, but it reflects some aspects of a broken past and present that needs addressing before characters can move forward with their lives. From Prospero's embittered loss of power in Milan to the marriage of Miranda and Ferdinand, The Tempest brings our focus to change, new generations, and potentiality.
Coupled with this title is Pericles, a play spanning years in a matter of hours. Our troupe looked especially to the production of agency within oppression – how the socially-least are exploited, or are able to fight back. Here, transformation is also synonymous with maturity, as lived experience increases the fullness and depth of character. We again see our themes of legacy and family obligation, a concern over children and lineage. A major drive of the plot in Pericles revolves around his search for what it means to rule.
Closing out our Fall Season, we are pleased to stage Une Tempête in conversation with The Tempest. While The Tempest may be informed by some real world accounts of the Virginia Colony and other early British colonial rule, Une Tempête is founded in the major issues of colonial oppression in the New World. Influenced not only by the original Shakespearean text, but also by the historical experiences of enslaved Africans in European colonies in the Caribbean, Caribbean revolutions such as Haiti of the 1700s, and Black Liberation movements of the 1960s onward, the play addresses the power struggles and experiences of Black bodies under systemic oppression.
Across the 2022 Artistic Year, we've continued to look at very real world concepts and concerns. Family, change, confusions, and complications all remind us of the humanity of characters, and of ourselves. Civic discourse on loss and mourning, patriarchal expectations, racism and anti-blackness, constructed and systemic violence, and the state of the modern world connect our Early Modern and Contemporary plays to each other and the world of today. We hope you'll join us this fall at the Blackfriars Playhouse for our fantastic trio of plays to experience this connection yourself!
---
Like this post? Be sure to tag us on social media! Come see Pericles, The Tempest, and Une Tempête, now playing at the Blackfriars Playhouse through November 20. Get tickets today!
---
All photos by Anna Kariel Photography.